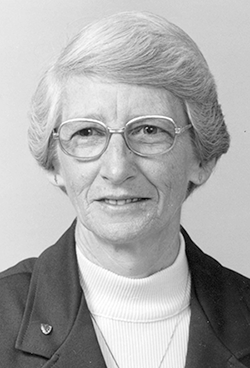 Colonel Dorothy "Dot" Pinkston, PT, PhD, FAPTA, a widely admired APTA leader, clinician, and educator, has died. She was 91.
With a career that included military service as a PT, hospital-based physical therapy, and teaching in the first postbaccalaureate physical therapy program in the U.S., Pinkston made a wide range of contributions, but she earned renown as a leader in curriculum development. Her work played a significant role in shaping thought around topics including educational standards in physical therapy programs, student selection, and shaping a student PT's clinical experience.
Born in Parrot, Georgia, on June 3, 1929, Pinkston earned a bachelor's degree from Georgia College and State University in 1951. In 1952 she was accepted into the physical therapy program at Northwestern University, receiving a certificate in physical therapy. She was also commissioned as a second lieutenant in the U.S. Air Force, where she served extended active duty as a clinical PT at two Air Force bases.
After release from the Air Force, Pinkston received her master's degree from Emory University. She joined the faculty of the graduate physical therapy program at Western Reserve University in Ohio, which would become Case Western Reserve, where she also earned her PhD. She was a member of the university's so-called faculty "dream team" that developed the country's first postbaccalaureate physical therapy program.
With a reputation as an expert in curriculum development, Pinkston was a sought-after participant in various university and national initiatives on physical therapist education, including APTA's Competency-Based Assessment Project Steering Committee in 1982.
Pinkston's contributions to APTA were extensive. She served on the APTA Board of Directors 1968-1971, on the association's Nominating Committee (including a term as chair), as a member of the Ohio delegation to the APTA House of Delegates, and on the editorial board of PTJ, the association's scientific journal, to name a few of her activities. She was also the recipient of multiple APTA recognitions including the Lucy Blair Service Award in 1978 and being named a Catherine Worthingham Fellow in 1986. That same year, Pinkston delivered the 21st Mary McMillan Lecture, one of APTA's highest honors.
During her McMillan lecture, Pinkston's talent for identifying and analyzing interconnectedness was on full display as she discussed the future of APTA and the profession as a whole. Her words have a special resonance as the association nears its centennial.
"For the association to be a viable organization in and of the twenty-first century, physical therapists and physical therapist assistants must be prepared to participate in the affairs of physical therapy," she said, "and the affairs of physical therapy extend beyond patient care and services to other clients."