By using this site, you are consenting to our use of cookies. To find out more visit our privacy policy.
APTA is the trusted leader for the physical therapy profession.
Do you want to contribute to an organization dedicated to improving societal health? Would you like to collaborate with colleagues who are passionate about making a difference? Are you excited to work in a new state-of-the-art building designed to encourage movement, participation, and employee health?
Then you want to work for APTA! Learn more about our workplace.
APTA is the trusted leader for the physical therapy profession, representing more than 100,000 physical therapists, physical therapist assistants, and physical therapy students. Our approximately 150 employees support the association's mission to build a community that advances the profession of physical therapy to improve the health of society. Learn more in our Association Profile.
Located in Alexandria, Virginia, APTA has outstanding employee benefits, including flexible work schedules, generous retirement contributions, and travel subsidies for employees who choose public and active transportation.
APTA is committed to promoting equal employment for all persons in its employment and hiring policies and procedures. This commitment prohibits any discrimination on the basis of race, color, religion, gender, pregnancy, age, national origin, disability, marital status, ancestry, sexual orientation, genetic information, military service or other illegal discriminatory factors. APTA supports efforts to increase diversity, equity, and inclusion to better serve the association, the profession, and society.
Come join our team!
About Our Workplace
APTA Centennial Center is across the street from the new Potomac Yard Metrorail station set to open in 2023. It's within walking distance of multiple restaurants and stores, and it offers immediate access to local bike trails.
Among its amenities, APTA Centennial Center includes a well-lit workspace, fitness room, and rooftop terrace overlooking the Washington Sailing Marina, with views of Washington, D.C.
APTA Benefits
Paid Annual/Sick Leave
Federal Paid Holidays
Alternative Work Arrangements (AWAs)
Medical, Dental and Vision Plan(s)
STD, LTD, and Life Insurance Plan(s)
Profit Sharing/401(k) Plan
Domestic Partner Benefits
Flexible Spending Accounts (FSAs)
Employee Assistance Program (EAP)
Tuition Assistance/Professional Development and Professional Membership
Legal Services
On-Site Parking or Qualified Transportation Plan (QTP) (for Alexandria, VA employees)
On-Site Yoga and Monthly Gym Membership Reimbursement or Corporate Gym Membership (for Alexandria, VA employees)
Pentagon Federal Credit Union Membership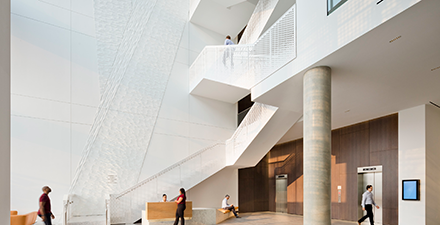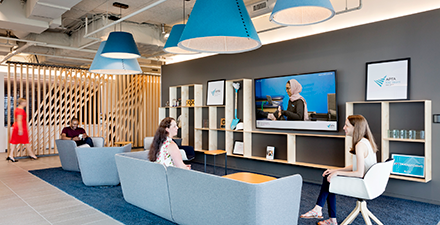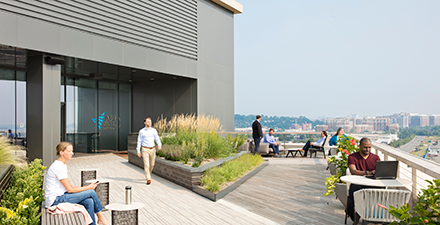 ---
Best in Business
The Alexandria Chamber of Commerce named APTA the "Best in Business" in 2018.
---
ASAE Power of A Awards
The industry's highest honor recognizes the association community's valuable contributions on local, national, and global levels. APTA has won Power of A Awards five times since 2017.
---
ASAE Gold Circle Awards
Gold Circle Awards recognize extraordinary marketing, membership, and communications efforts. APTA has been recognized with awards four times since 2017.