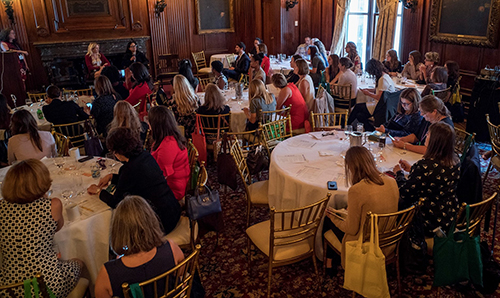 This year's Women in PT Summit is expected to draw more than 100 attendees.
Next professional conference you go to, take a look around. Chances are you'll see a disproportionate number of men at podiums, on panels, and walking around with all those extra ribbons on their ID badges—even when the profession itself is supposedly "female dominated." It's a symptom of a bigger problem that many people, including Karen Litzy, PT, DPT, would like to change.
Litzy will be the first to admit that there's much work to be done. But as the organizer of the Women in Physical Therapy Summit, now in its third year, Litzy can take some pride in knowing that when it comes to at least 1 conference, the problem has been turned on its head.
The 2-day summit, coming up on September 21 at John Jay College in New York City, focuses on the contributions women have made and the ways they can have an even greater impact. Men are of course welcome (and do attend), but the emphasis is on women—not just as speakers, but as sources of inspiration, insight, and experience. The event is sponsored in part by APTA.
The summit provides attendees with something different from the usual professional physical therapist (PT) gathering: rather than focusing on research, interventions, and other aspects of providing care, it focuses on the providers themselves and how their perspectives as women in the profession can be brought to the table.
"There's an incredible depth of knowledge, creativity, and passion that exists among the women in the physical therapy profession," Litzy said. "It seems that, oftentimes, speakers and panels at large conferences are vary male-dominated, and we wanted to give the opportunity for smart, successful women to share their stories and expertise."
Keynote speakers for this year's event include Emma Stokes, president of the World Confederation of Physical Therapy; disabilities activist, comedian, actress, and TED speaker Maysoon Zayed; and Eleanor Bergstein, a writer, director, and producer of, among other movies, Dirty Dancing. You might say that when it comes to speakers, nobody puts the summit in a corner.
In addition to the keynotes, the summit also includes panel discussions and—new this year—a series of 4 workshops, 1 each on public speaking, marketing, diversity, and negotiation.
"I hope attendees will walk away knowing they have a supportive group behind them who will give them honest advice and do what they can to help them succeed," Litzy said. "This year in particular, I want the attendees to know that they have so much to share, and that we can help provide them with the tools to get their ideas out into the world."
Getting those ideas out into the world of physical therapy can be a challenge, even though the profession is described as "female-dominated." Actually, Litzy says, that whole "female-dominated profession" concept is tricky to begin with.
"From a sheer numbers standpoint, of course—there are clearly more female PTs than there are male," Litzy said. "But if you close your eyes and ask someone to describe a leader or CEO in the physical therapy profession, I believe many people would think of a man first. This isn't something unique to physical therapy, of course—it's true of most professions in the world. But it's something I'd love to see change."
Litzy does see some movement. "I've seen many more women using social media to make changes in the profession and to help establish themselves as thought leaders in physical therapy and beyond," Litzy said. "And I've been seeing more and more women calling out inequities, such as conferences or courses with all-male or mostly male faculty. I know that may sound petty, but if you're a younger PT and you see people that look like you on a panel or speaking at a conference, it does mean a lot."
It's a trend that Litzy also sees on a more universal level, even within the time since the first summit.
"Times have changed somewhat for women in the world in general over the past 2 years, with movements like Time's Up and #Metoo supporting women to speak out—not just about sexual assault but about the inequities they may be facing in their personal or professional lives," Litzy said.
Litzy brings her own experience to the conference as well. The owner of a concierge physical therapy practice in New York, she's also host of the "Healthy, Wealthy, and Smart" podcast series that provides clinical information and business strategies from thought leaders in physical therapy, wellness, and entrepreneurship. She hopes that the summit will make it easier for other PTs to find their own ways to grow in the profession.
"We want to create a space where physical therapists feel supported to take on any challenge and get inspiration from each other," Litzy said. "We want attendees to come away ready to reach for goals they thought they could never achieve."