Pain is complicated, and effectively addressing it requires open communication and a true partnership between providers and patients. Sarah Wenger, PT, DPT, believes that physical therapy can support just that type of relationship, and she took that message to TV and radio stations across the United States as part of a recent APTA satellite media tour.
The "tour" involved linking up with TV and radio stations across the country to arrange for short remote interviews with Wenger, a clinician and educator with extensive experience in working with patients living with chronic pain. The daylong event was held during Pain Awareness month, and provided an opportunity to promote the association's retooled ChoosePT.com consumer site (formerly MoveForwardPT.com), as well as a more broad use of the "ChoosePT" call to action to include a wide range of conditions including pain.
By the beginning of the tour day on September 18, 28 interviews were booked—17 for television and 11 for radio. The interviews tended to focus on how to address the opioid crisis through better approaches to pain management that involve interprofessional teams, a patient-centered approach, and honest discussions between patients and providers. Wenger emphasized how physical therapy can play an important role in the process. Most of the interviews were broadcast live, but some were recorded for later playback—meaning there's a chance you could hear an interview in the coming days and weeks. Check out this video of a live interview from WTMJ-TV 4, in Milwaukee, for an example.
The day also included a lengthier interview with Jaqueline Andriakos, health director for Women's Health magazine. That interview, presented as a Facebook Live broadcast, allowed Andriakos and Wenger to discuss at length the more personal, patient-centered relationships physical therapists and physical therapist assistants try to build with their patients.
In the Women's Health interview, Wenger talked about the importance of receiving a range of care for pain, including physical and mental health care, and how physical therapy's focus on movement fits into the picture.
"When you're in pain moving is hard, and you end up in this bad relationship with pain where you're scared to move…and you end up doing less and less, and as you do less and less, you can do less," Wenger said. "You get less and less and less healthy, and movement is how you get yourself back to being healthy."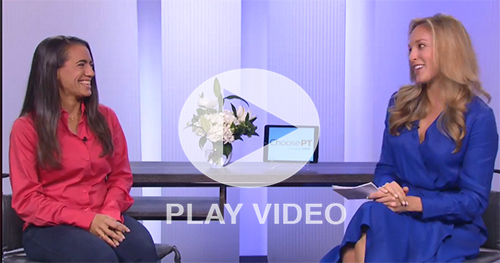 Sarah Wenger, PT, DPT, discussed pain management and role of physical therapy with Women's Health magazine in a recent
Facebook Live event
.