Geneva Richard Johnson, PT, PhD, FAPTA, whose contributions are woven into the fabric of the physical therapy profession, has died. She was 99.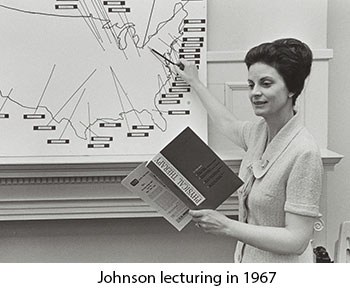 Johnson's influence on physical therapy — particularly physical therapy education — is difficult to overstate. While Johnson earned many awards for her work, that list of honors does not fully capture her impact on or her engagement with APTA and the profession she loved, which continued well into her 90s.
Johnson earned a bachelor's degree from University of Southwestern Louisiana in health and physical education in 1942, followed by a certificate in physical therapy from the U. S. Army Lawson General Hospital in 1946. She later earned a master's degree in educational administration from the University of South Carolina and a PhD in higher education administration from the University of Pittsburgh.
After earning her physical therapy certificate, Johnson began her service in the U.S. Army, where she served on and off for several years.
Between her Army service, Johnson worked for the National Foundation for Infantile Paralysis at hospitals in Iowa in response to local polio outbreaks. She considered her military service and her work during the polio outbreak to be among the most important contributions to her country and profession.
In 1959, Johnson joined the faculty at what was then Western Reserve University, in Cleveland, Ohio. (now Case Western Reserve University), to help found the university's graduate physical therapy curriculum — the foundation for the country's first master of science degree in physical therapy. She remained at Case Western until 1974.
Johnson's influence on education and research continued to grow through her work at The Institute for Rehabilitation and Research at Baylor College of Medicine in Houston, and her service as the founding dean of the DPT program at the University of Mobile, in Alabama. She continued to share her knowledge as an educational consultant to institutions in the U.S., Canada, and Jordan, and through work in Egypt via Project Hope.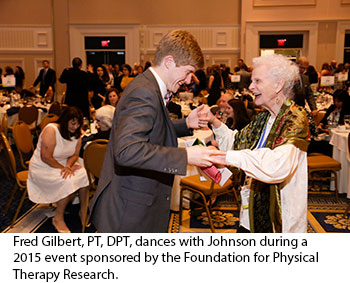 Many organizations benefitted from Johnson's commitment and leadership. She served in over 20 different positions for the Iowa, Texas, Georgia, and Ohio chapters. A member of APTA for more than 72 years, she was inducted as a Catherine Worthingham Fellow of APTA in 1983, just one year after Worthingham herself was inducted. In 1985, she presented the APTA Mary McMillan Lecture, "Great Expectations: a Force in Growth and Change." She also received the APTA Lucy Blair Service Award, the Army Physical Therapy Program Outstanding Alumni Award, and the APTA Pauline Cerasoli Education Award. Most recently her legacy was recognized by the establishment of the Geneva R. Johnson Annual Forum on Innovation in Education, held annually at the Educational Leadership Conference.
"Details and lists of achievements can capture the basic elements of Dr. Johnson's professional life, but they don't fully reflect Geanie as the person her family, friends, and colleagues knew," said Laurita Hack, PT, DPT, MBA, PhD, FAPTA, former APTA secretary, fellow McMillan lecturer, and one of Johnson's many friends. "She brought passion and commitment, a belief in physical therapy as a vital health service, and a confidence that when physical therapists act with courage and determination anything is possible to everything she did. As she herself said, 'We hold the power within our heads, hands, and hearts to be whatever we dream. The horizons have no limits for us as physical therapists.'"