One of the profession's most dynamic leaders and a champion of diversity, Samuel Feitelberg, PT, MA, FAPTA, has died. He was 93.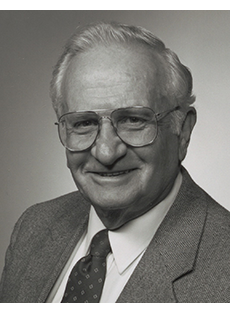 Feitelberg's career encompassed clinical work, education, administration, and service to APTA and his community. During his lifetime, he worked to increase diversity and raise professional standards in the physical therapy profession. His achievements included founding the Journal of Physical Therapy Education and establishing an endowed scholarship at Clarkson University, in Potsdam, New York, given to a physical therapy student who has a demonstrated commitment to service and advocacy for underserved or culturally diverse populations.
Born in 1933 in the Bronx, Feitelberg received a bachelor's degree from Columbia University and a certificate of physical therapy from the CU College of Physicians and Surgeons in 1953. In 1954, he earned a master's degree from the CU Teachers College. Later in his life he earned a certificate in labor administration from Harvard University and was awarded an honorary doctorate of science degree from Utica College.
Feitelberg began his physical therapist career through service in the U.S. Army Medical Specialist Corps at Walter Reed Medical Center in 1954. By 1959 he had shifted to teaching, beginning with CU, eventually going on to help found and direct physical therapy education programs at the University of Vermont in Burlington and at Clarkson. Throughout his years as an educator, Feitelberg was known for his emphasis on strengthening professionalism through dedicated mentoring. He viewed the refinement of faculty skills as another key component in this effort and is credited with playing an important role in the creation of one of the first successful faculty development plans.
A member of APTA since 1953, Feitelberg served on the association's Board of Directors from 1990 to 1993. Prior to his board tenure, he served as president of the APTA Academy of Education (then known as the Section for Education) from 1986 to 1989 and was a member of the APTA Nominating Committee during the same period. Feitelberg received the APTA Lucy Blair Service Award in 1983 and the Diversity 2000 Award in 1996. In 1997, he was named a Catherine Worthingham Fellow of APTA. Specific to the APTA Academy of Education, he founded the Journal of Physical Therapy Education and delivered the academy-hosted 2004 Pauline Cerasoli lecture.
In both his academic and APTA endeavors, Feitelberg was perhaps best known for his commitment to cultural diversity in the profession, higher education, and society in general. At APTA, he served as Board liaison to the Advisory Panel on Minority Affairs and was chair of the association's Task Force on Racism. As a faculty member and program director, Feitelberg was a strong advocate for diversity ethics and cultural competence at both the program and institutional levels. His legacy lives on in an endowed scholarship program at Clarkson awarded to a PT student engaged in cultural diversity efforts.
Feitelberg's dedication to the profession and patients took far-ranging turns. He served as a consultant to NASA on programs to help astronauts perform tasks in weightless conditions, with some of that work eventually used in therapy programs for individuals with Parkinson disease. In addition, Feitelberg helped to found the Oscar Edgardo Pineda Castro Rehabilitation Center, a facility for children in Tela, Honduras.
A celebration of Feitelberg's life will be held later this spring. In lieu of flowers, family requests donations be made to the Samuel B. Feitelberg Physical Therapy Endowed Scholarship, Clarkson University, 8 Clarkson Ave., Potsdam, N.Y. 13699. Donations also may be made to the Shelburne Veterans Memorial Fund, P.O. Box 88, Shelburne, Vermont, 05482.