My name is Sheena Moore and I am a DPT student at Oakland University (OU). I feel that one of our greatest accomplishments over the past year and a half is making personal connections with physical therapy students.
Oftentimes this can be challenging via email, so Megan Czarnowski (featured below) and I make an effort to socialize with students as best as we can via Google hangouts (something new that we tried this year) and in face-to-face meetings. Our state holds a student conclave meeting every spring, and Megan and I work closely with our student relations committee to communicate with students at all of our state's schools to get their input for ideas on speakers, topics, and other suggestions.
his year a big effort was made to organize a dinner and bar crawl after the student conclave in order to get more students from various schools out and talking. We believe that building communication with others and giving them a reason to care or be excited will increase the odds of them becoming an APTA/MPTA member and advocates for our profession.
I am excited about seeing our profession grow. My hope for our profession is that the community will think of physical therapists as movement experts and understand how we can manage their symptoms as an alternative to surgery, drugs, or other forms of symptom relief. I would love for our profession to be as common as checkups with a doctor or dentist.
I choose to be involved with APTA in order to continue to have access to great resources for my clinicals and future patients. I like knowing what is new and growing with our profession. I think being a member is an important part of keeping us connected and on the same page with current topics and issues.
Sheena Moore, SPT
Core Ambassador - Michigan
My name is Megan Czarnowski, and I am in my third and final year of the DPT program at Oakland University. I have a bachelor's degree in biochemistry, with a concentration in premedicine and a minor in exercise science. I have enjoyed the past 2 years serving first as Michigan's core ambassador-elect (CA) and now as co-core ambassador. I am a graduate assistant for the Honors College at OU. My physical therapy interests include both orthopedics and pediatrics. After graduation, I plan to pursue a postdoctoral certification in orthopedic manual physical therapy (OMPT). I want to work in an outpatient orthopedic setting, with the ability to treat both children and athletes as well. I also am currently studying to become a certified strength and conditioning specialist (CSCS). In my free time, I enjoy running (5K to full marathons) and playing soccer.
My greatest accomplishment thus far as a CA is being part of the MPTA-SRC, also known as Michigan Physical Therapy Association-Student Resource Committee, and helping to plan our student conclave each year. Our student conclave is one of the biggest in the nation, and it truly is a great way to bring physical therapy students and professionals together. Specifically, this year I am adding a networking dinner and a pub crawl immediately following the student conclave. Organizing this dinner and pub crawl to bring students and professionals together from all over the state is a great accomplishment. The student conclave, dinner, and pub crawl will occur at the end of this month. It is so empowering to be able to organize an event and bring so many people together in the passion of our profession.
I am truly excited to graduate with my doctor of physical therapy degree and pursue my CSCS and OMPT certifications. I look forward to the numerous possibilities of continuing education as a licensed physical therapist. I believe that there are many different, effective approaches to physical therapy, and I hope to explore techniques such as Kinesio taping and Graston. I also want to remain active with the MPTA and APTA. At this point I am not sure what position I desire to have, but being a part of both the MPTA and APTA has really opened my eyes to advocacy and bettering our profession. I enjoy being a part of the planning process for our student conclave, and I definitely want to consider being a part of the MPTA to help plan and host our fall and spring conferences. On a personal level, I look forward to starting my own family, and I dream of qualifying for the Boston Marathon one day.
I am a member of APTA because I firmly believe in advocating for our profession. As individuals with a doctoral degree, we have the responsibility and duty to uphold our degree and use our vast wealth of knowledge to help others. In just the last couple of years, I think it is awesome that physical therapists have successfully fought so hard for obtaining direct access and preventing the chiropractic bill. Without APTA and everyone unified together, we could not have achieved these 2 major successes. In my opinion, it is only through the coming together of everyone under APTA's direction that really gives us a strong voice in advocacy.
Megan Czarnowski, SPT
Core Ambassador - Michigan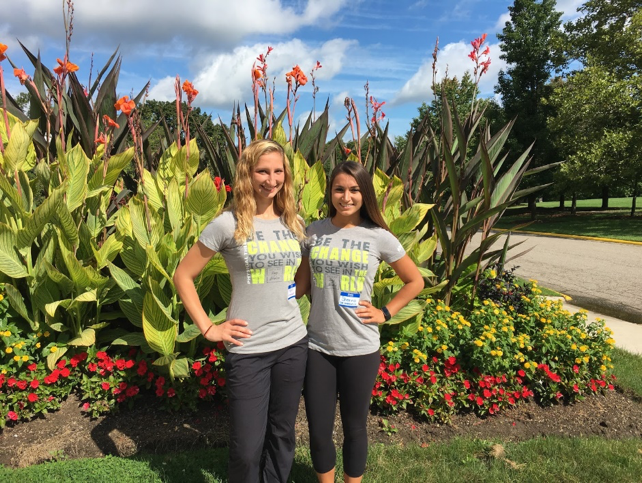 Megan Czarnowski, SPT (left) and Sheena Moore, SPT (right)
Core Ambassadors - Michigan