Between a Sunday night and Monday morning in March, I had fewer than 12 hours to choose whether to stay and treat in my outpatient clinic or volunteer to deploy to a then-unknown position in the health care network where I work.
I thought of my coworkers who were living with high-risk populations and decided that I'd volunteer to be reassigned. Little did I know how close I would be to the front lines of the COVID-19 pandemic.
The letter below is written as if to a single patient, but it reflects the totality of the patients with COVID-19 I encountered.
Dear COVID-19 Survivor,
You may not have known me at the time, but I have been involved with your treatment and recovery from the first day you were designated a possible COVID-19 patient.
As a physical therapist working for a health care system, I was reassigned to a variety of roles to assist with COVID-19 treatment throughout your journey. My experiences aren't unique: Many PTs across the country also were reassigned. We did whatever was asked of us to help the team provide your care.
When we first met I was supporting an urgent care center respiratory illness clinic with patient registration.
It was March and the clinic was one of three in my county performing in-person and car-side COVID-19 testing. I probably asked you screening questions and scheduled your appointment for a COVID-19 test. The day you walked in our clinic, the treating physician referred you to the hospital because your pulse oximeter value was 89%.
I looked at the car you left in our parking lot. Your car was still in the lot when I was reassigned.
My reassignment, in April, was to assist respiratory therapists in COVID-19 units as a respiratory therapy extender. I worked 12-hours shifts supporting the amazing respiratory therapist department with your care. I saw you arrive in the emergency room as the health care team worked tirelessly to revive you.
When the ventilator was requested, I was likely the one who had cleaned and prepped it.
I would help with turning you over with a team of nurses and respiratory therapists, providing equipment to the respiratory therapists during their extended times in your room and holding your endotracheal tube as the respiratory therapists taped it in place to prevent a sore on your cheeks during your stay in ICU.
Often the patient in the room to the left and right of you did not make it, but you were resilient. You kept fighting.
You were there for weeks and weeks and weeks. I saw your family try to talk to you from an iPad outside your room. Visitors weren't allowed for COVID-19 patients. The medical team became your family and we learned your story.
Part of my job was to replace your inhalation solution water bag to keep you comfortable. I always chatted when I was in the room so you knew someone was there sending good thoughts your way.
During your time on a ventilator, I also assisted the acute care physical therapists with transferring you to a chair for an upright position, making sure your ventilator tubing stayed in place while you were mobilized.
Our paths crossed again when you were transferred to inpatient rehab. In late May, I assisted the physical therapists and occupational therapists with treatment as a second set of hands.
I saw how weak and frail you had become due to the virus and time on a ventilator. You couldn't lift your arms and legs more than a few inches off the bed.
As I was assisting the physical therapist with treatment, we chatted about how much you missed your dog, Banjo, your desire to go outside, and hopes to go home soon.
I'd always try to do something to make your day a little brighter. At the end of the treatment, the treating therapist and I would make sure you were comfortable with your positioning, such as adjusting your pillow.
We met again in an outpatient physical therapy clinic after you were released from inpatient care. But your journey was far from over.
I read your chart extensively before your evaluation. As a result of virus complications, you experienced an anoxic brain injury. Your resilience never left you. I saw it again as you struggled to walk into the physical therapy evaluation with your sons supporting both arms.
Now it's my chance to be a primary member of your health care team.
During your evaluation I asked about activities you were struggling with — things like standing, walking, stairs, self-care, and swallowing. I developed a physical therapist plan of care to address your individual needs and functional limitations.
I provided information to you and your sons so that you could consult your referring provider for an occupational therapy and speech-language pathology referral.
After the evaluation, I also called your referring provider with my observations on your functional status and made recommendations for occupational and speech therapies. I made sure the referral for additional therapies was placed, and I recommended a hospital-based outpatient physical therapy clinic close to your home with these therapy services.
I'm determined to get you back to meaningful activities.
The fact is, physical therapists have been involved in your recovery as active members of your medical team from the moment you entered the hospital. Our doctorate degrees and skilled clinical reasoning have provided us with the tools to support the medical team and facilitate your rehabilitation every step of your journey.
One of my physical therapy professors used to tell me that when patients are facing an unknown long-term prognosis, we should share with them that we will "work with what you have and hope for the best."
When you ask me about your recovery — actually, when any of my patients ask about recovery — I follow that advice. Because sometimes, even as clinicians, we don't know.
And I'll be honest: Long term post-COVID recovery and care is unknown.
But here's what I do know: Movement is medicine, and as a physical therapist I am dedicated to using my knowledge and expertise to get you back to doing all the things you enjoy and to improve your quality of life.
So let's get moving.
All the best,
Stacy Pepitone, PT, DPT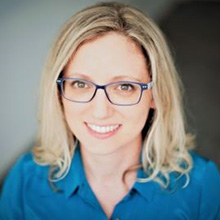 Stacy Pepitone, PT, DPT, is an outpatient neurology and outpatient orthopedic physical therapist in Virginia. She serves as the APTA Virginia Northern District treasurer. She earned her DPT from Marymount University. You can contact Stacy at stacypepitonedpt@gmail.com.