On the evening of Dec. 10, 2021, Marianne Ramsey, PT, remembers that she was keeping an eye on weather reports near her home, like you do when they're predicting thunderstorms in your area. She stayed up a little later than usual to track the storm, said a special prayer, and went to bed. She didn't know what to expect: After all, early winter isn't exactly peak time for tornadoes in Kentucky.
But sometime around 1 a.m. on Dec. 11, 2021, Ramsey's world changed.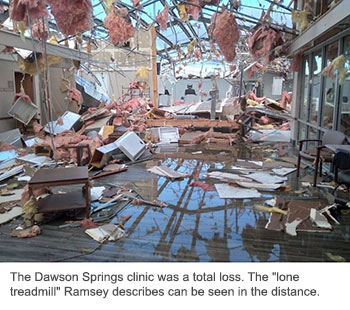 As the PT in charge of six outpatient clinics operated by her employer, Baptist Health Deaconess, Ramsey also was trying to keep up with the weather in two locations that seemed to be in the path of the storm — one in Princeton, and the other in Dawson Springs, about 15 miles away (Ramsey lives in Hanson, a small town about 30 minutes northeast of Dawson Springs, 40 minutes from Princeton). In the early hours of Dec. 11, she was awakened by a text from the Deaconess emergency notification system, telling her to respond to a disaster code.
She dialed in. "They were like, 'the Dawson clinic's gone,'" Ramsey said.
The description was literal. The physical therapy part of the clinic had been all but erased: two of its walls rubble, roof ripped off, equipment God-knows-where. When she was able to get a firsthand look at the devastation, Ramsey recalls looking through the building's nonexistent front wall, to open space behind what used to be the back wall.
"In the clinic space, I could see a lone treadmill. Everything else was gone," Ramsey said. "I've never seen that kind of destruction before." The physical therapy clinic shared a building with a Deaconess medical clinic, which, while mostly standing, was a total loss as well.
The timing of the category EF-4 tornado, with a peak wind speed of 190 mph, was after operating hours, so no one was there when it hit. But that was the only dim positive. The loss of the clinic effectively cut off access to needed services in and around Dawson Springs, with its population of around 2,400 people.
Three months later, the clinic is set to reopen in a new facility built on the original foundation.
"A Little Like Christmas Morning"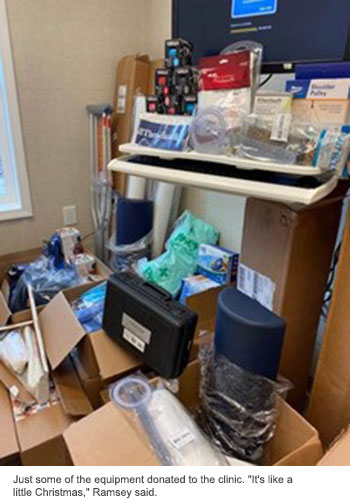 The story of the Dawson Springs clinic's return is a story about the power of the physical therapy community. Within hours of learning about the clinic's destruction, Ramsey was on a path that would eventually lead to donated new equipment and at-cost access to other needed resources, thanks to the work of multiple players leveraging their individual abilities for a common goal.
Recently Ramsey sent photos of the first shipment of donated equipment, courtesy of California-based North Coast Medical and Rehabilitation Products, which arrived in late February. The pictures show two pallets' worth of a little of everything — crutches, shoulder pulleys, foam rollers, goniometers, you name it — that are crucial to the operation of an outpatient clinic. "It was a little like Christmas morning, opening the boxes to see what surprises they held!" Ramsey said.
Now Ramsey is waiting to receive the last pieces of necessary equipment before an official reopening and resumption of the clinic's three-days-a-week schedule. The clinic's therapists — one PT and one PTA — will return from their temporary gigs at Baptist Health Deaconness's Madisonville facility.
"It's Amazing How Quickly Things Started to Roll"
To understand the chain of events that led to Dawson Spring's mini-Christmas, you have to start with Charlie Workman, PT, MBA, president of APTA Kentucky.
On Dec. 10, Workman made a car trip from Lexington to Paducah and back to pick up some Christmas gifts. He found himself on the road late into the night and wound up driving through a less-severe part of the storm. "Little did I know what was in the skies that would cause so much destruction in our area," Workman said.
By the next day, the disaster was all over the news. Workman contacted Mike Muscarella PT, DPT, a former chapter president who lives in the western part of the state, to help get a sense of just how badly the area's PTs, PTAs, and patients had been affected.
Muscarella gave him the name of members who had suffered property damage or loss (fortunately no injuries or worse), including one PT who had just closed on the purchase of a century-old house that was leveled. Muscarella also said that he'd heard there was some damage to a clinic in Dawson Springs, and he gave Workman the director's number.
"I called and asked Marianne about the status of the clinic," Workman said. "She said, 'It's gone.'"
Workman was familiar enough with the area around Dawson Springs to know that clinics are few and far between, and that it's host to a growing aging population in need of care. He needed to act fast.
He got in touch with Dena Kilgore, APTA's director of member engagement, to see if APTA was in a position to help. Kilgore took the ask to APTA leadership, which assigned Drew Contreras, PT, DPT, APTA vice president of clinician integration and innovation, to run point. After laying out the challenge and discussing possibilities with Contreras, Workman put Contreras in touch with Ramsey.
"It's amazing how quickly things started to roll once some PTs got together to help," Workman said.
"Where Do You Start When You Have To Start From Scratch?"
Contreras quickly learned about the clinic's needs from Ramsey — basically, everything. And, yes, Contreras said, the clinic was insured, but you know how that goes. There were potentially significant gaps that needed to be addressed, and details that needed to be worked out. "I mean, where do you start when you have to start from scratch?"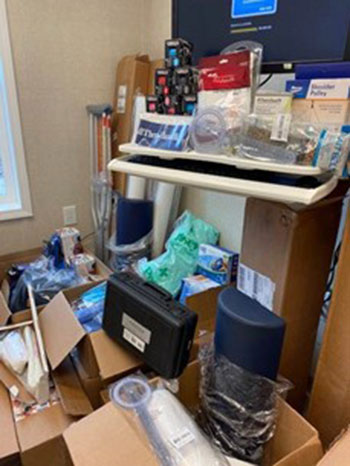 The more he thought about it, the more Contreras kept returning to the idea of seeing if a supply company would be interested in making equipment donations. North Coast seemed like the best prospect — a family-owned business that, according to Contreras, "wants very much to be involved in the physical therapy community."
It didn't hurt that Contreras already had a contact at North Coast — Jennifer Dougherty, the company's director of sales for strategic accounts. Dougherty had helped Contreras with the purchase of equipment for his own practice.
Dougherty made the connection between Contreras and North Coast corporate. The response was more than encouraging.
"There was absolutely no ask from them," Contreras said. "They were just like, 'What can we do to help?'"
"Who's This for?"
Like Contreras, Dougherty thought her bosses would probably be willing to help out. And the idea of doing something struck a personal chord with her as well. "I can sometimes be hesitant to ask for help when I need it," Dougherty said. "So I've always admired people who are brave enough to ask for help. We all need it at one time or another."
Dougherty was prepared to make the case to North Coast corporate, but there was no case to be made. "The response I got from corporate was, 'Absolutely,'" she said.
After getting the green light, Dougherty set out to identify which stock was currently in warehouses, immediately available for shipping. Despite supply chain problems affecting everyone, she found a lot — two pallets' worth of equipment — and began arranging for shipment. "We were able to tackle 50% of the clinic's wish list," Dougherty said. "Anything that we had in our warehouse that was on the list, we sent."
At the same time, she reached out to manufacturers and vendors to find out about the possibility of offering, at cost, other, more-expensive equipment not on hand — no markups from anyone. Several agreed, and Dougherty began working with Contreras and Ramsey to make it happen.
Dougherty said that at some point, well past the corporate OK and into the acquisition of needed supplies, she realized she had overlooked a detail. That it hadn't occurred to her before underscored her conviction that something good was happening.
"I remember at one point talking to Drew on the phone, and I said, 'Drew, I never asked you — who is this for?'"
"Even With Everything Else That's Going on, There Wasn't a Bit of Hesitation"
After it reopens, the clinic will continue to grow, with an additional 600-700 square feet to be added soon. Space may be limited, but care is once again available.
For his part, Workman is grateful for the relatively short interruption in care, considering the degree of damage done to the clinic.
"Nothing serves the county like a local clinic directly in the town for patients to access," Workman said. "As a physical therapy community, we have a responsibility to ensure access to care for patients who need services, and everyone really saw the need for this clinic to be up and running as soon as possible."
Contreras said what has impressed him most was the lack of hesitation — and ego — around helping. He thinks the clinic's reboot was the result of people understanding how they could best contribute to a goal.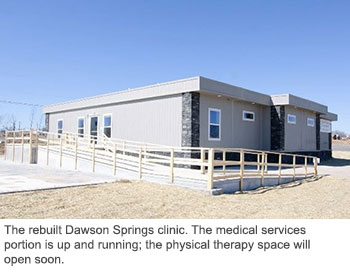 "It's like, part of the community has a need and the broader community kind of circles around and helps out," Contreras said. "That's where the leverage of APTA comes in — we can make connections for that greater good. This wasn't about anyone looking for credit. This was about a community response to a genuine need."
Like Contreras, Ramsey also thinks that the response is about more than simply getting a facility back on its feet.
"It's wonderful to see how the community has come together," she said. "The therapy community really rallied around us — even with everything else that's going on, there wasn't a bit of hesitation. It reaffirms your faith in humanity, and it's been such a huge blessing."