In 1974, Howard University in Washington, D.C., launched what was to become the first historically Black university to have an accredited physical therapy program. Today there are eight historically Black colleges and universities, or HBCUs, that offer DPT programs. I am a proud alumna of one of them — University of Maryland Eastern Shore — and I believe that our country's HBCUs are an invaluable source of education and support that should be at the top of any aspiring African American's list of PT schools.
I didn't discover HBCUs on my own. In fact, HBCUs have played an important role in preparing many of my family members for their careers. My parents, grandparents, brother, and numerous aunts, uncles, and cousins are graduates of HBCUs. Their explanations of their college experiences and pictures helped to define my vision of college and influenced me to attend an HBCU for my undergraduate degree.
In the fall of 1992, I entered Spelman College in Atlanta, one of two HBCUs for women in the United States. Our professors and faculty encouraged us to be leaders in our chosen courses of study and helped us to become what they called "women who change the world." There was nothing we could not accomplish because of our race or gender, and Spelman prepared us to make a difference in the world.
When I mentioned to fellow Spelman alumna that I was considering a career as a physical therapist, she set up a meeting between me and another Spelman alumna —a retired physical therapist who went to PT school in the 1950s. She encouraged me to pursue a career as a PT and told me that Spelman had prepared me to become a physical therapist. It was from this nurturing and supportive undergraduate environment that I gained my confidence to pursue physical therapy as a career.
After Spelman I wanted to stay closer to home for physical therapy school and applied to the University of Maryland Eastern Shore.
Prior to entering the program, I assumed that as students in an HBCU most of my classmates would be African American, but that was not the case. Although the undergraduate student population at UMES was primarily African American, the student population of the graduate program in physical therapy was not. In fact, in my graduating class of approximately 24 students, only two of us were African American.
I enjoyed my time at UMES and was always challenged to do my best by my professors, classmates, and other faculty members. Our faculty worked hard to support us in the classroom and on affiliations to prepare us for physical therapy careers, and I felt confident that they had provided us with the knowledge and expertise to make a difference in the world of physical therapy. But it wasn't just the teachers — there was also a camaraderie among the African American students from the other classes that pushed us to succeed.
When I started at UMES, the second- and third-year African American PT students continued a tradition of hosting a welcome dinner for the first-years to share their own first-year experiences, and to stress the importance of studying hard and preparing for exams. They also volunteered to help us through anatomy by sharing study tips and preparing practice practical exams for us. Once we became second- and third-year students, we did the same thing.
That level of care continued past graduation. In preparation for the boards, I was able to attend an exam workshop sponsored by the American Academy of Physical Therapy, a professional organization for African American and Latino physical therapists.
The support I had at UMES confirmed that I had made the right career choice, but I often wondered why there were not more African American students in the physical therapy program of an HBCU.
The eight HBCUs offering the DPT are Howard University, Hampton University, University of Maryland Eastern Shore, Alabama State University, Winston Salem State University, Langston University, Florida Agriculture and Mechanical University, and Tennessee State University. And while it's true that we could benefit from additional PT programs at other HBCUs, I don't think the problem is lack of availability. It's the lack of a strong pipeline into the existing programs.
These changes can start at the local level. The DEI section of APTA Maryland has made concerted efforts to speak to students at various grade levels regarding physical therapy careers. Efforts to increase diversity in the profession cannot begin once you enter a physical therapy program; they must begin as early as elementary school. The fact is, one of the biggest reasons students from minority populations don't choose to pursue a career in physical therapy is because they simply don't know about the possibility. This needs to change.
We're making progress, and there are opportunities to do more. APTA's PT Moves Me campaign is a great resource that lays out a presentation to students at various age levels about physical therapy careers. At our undergraduate HBCUs, we can volunteer to work with health career advisors to setup information on physical therapy careers so that these students are receiving accurate information on the application process and what a physical therapy career is all about. We can hold sessions for students to share the requirements for physical therapy school so that students make the right undergraduate course and volunteer choices. We can help advisors understand the application process.
There are also pipeline opportunities within the HBCUs themselves — especially the ones that offer the DPT. What's the relationship between the HBCU's undergraduate and graduate populations? Are there faculty on the admissions committee who are willing to identify that individual who may be the "diamond in the rough," who would make a great physical therapist if only given the opportunity?
Of course, another barrier looms large: cost. Many African American undergraduates in HBCUs are already carrying student loans, and they would likely have to take on more debt to pursue a DPT. This is a huge problem that must be addressed. We can help by increasing the financial literacy of students from an early age.
HBCUs are responsible for producing a large share of Black graduates with undergraduate degrees in science, technology, engineering, and mathematics who go on to pursue graduate education. The corporate world has caught on: Fortune 500 companies visit HBCUs to recruit talented individuals to join their businesses in efforts to enhance diversity and to build pipelines of recruitment for students into their workplaces. We should be doing the same for our profession.
APTA and chapters should investigate areas where HBCUs are located. We have our work cut out for us: In 2021, according to the Physical Therapy Centralized Application System, only 7.27% of all applicants who were accepted in DPT programs were identified as being African American (either exclusively or in combination with other races or ethnicities) — just 857 among the 11,793 students who were accepted into DPT programs that year.
This number needs to increase significantly if we are to achieve our goal of diversity in the profession. HBCUs at the undergraduate and graduate levels could play a key role. We can't afford to overlook these schools for talented applicants and the development of new DPT programs as we expand as a profession and strive to meet the needs of a rapidly diversifying America. It is hard to diversify a career if there is a population of individuals who do not know the profession exists.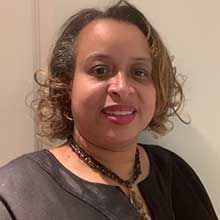 LaDonna Dingle, PT, works with oncology patients as a Certified Lymphedema Therapist. She was selected as the 2021 APTA Centennial Scholar for APTA Maryland and is a member of the DEI workgroup of APTA Maryland. You can reach her at ladonna.dingle@gmail.com.