National Advocacy Dinners are an annual event, usually held locally by programs and student groups, to learn about the importance of APTA advocacy and how students can get involved and stay involved throughout their careers.
April 2023 will be the month for hosting National Advocacy Dinners.
---
What: Learn the top legislative issues affecting your future profession and patients, and find out how YOU can get involved and make a difference NOW as a student advocate. #PTAdvocacy.
Where: Participants are listed on our Facebook page!
Hosting a Dinner
Interested in hosting a dinner but don't know where to start? Access this guide to get started.
Hosting a dinner? Tell us! Reach out at advocacy@apta.org.
Host Resources
Use the social media graphics below to promote your National Advocacy Dinner. Click the image to display large size, then right click to save the image.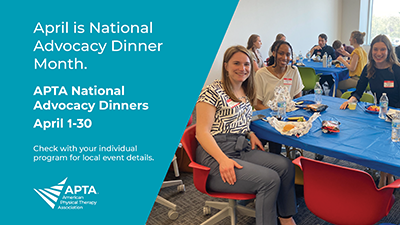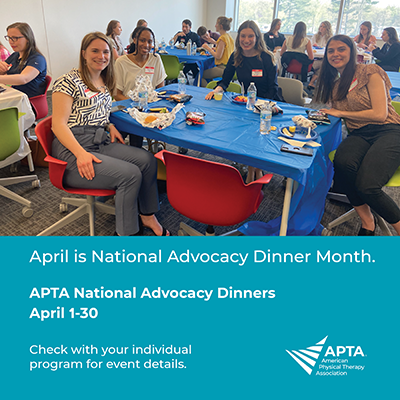 Attending a Dinner
You may also reach out to your Core Ambassador for dates and locations in your area. For more information, or information on how you can organize a dinner, contact advocacy@apta.org.