By using this site, you are consenting to our use of cookies. To find out more visit our privacy policy.
Celebrate the profession in October!
Every October we celebrate National Physical Therapy Month to raise awareness with consumers about the many benefits of physical therapy. It's also a great opportunity to appreciate what PTs, PTAs, and students do to transform lives.
NPTM is the perfect time for service events. We have a ChoosePT toolkit full of resources to promote the profession, and you also can use ChoosePT.com to educate consumers about the value of physical therapy.
Stay tuned for more information about NPTM 2023.
Get Graphics
Download NPTM-specific graphics to raise awareness and celebrate physical therapy.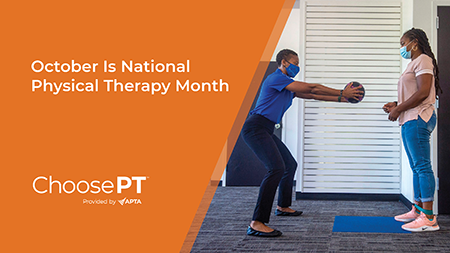 Download printable ads and posters of Thank You Ads that appeared in the New York Times.
History
APTA and participating components began to celebrate Physical Therapy Week in the early 1980s. The week was initially observed in conjunction with APTA's annual conference in June and was later moved to October. The week evolved and the first NPTM was celebrated October 1992.
ChoosePT Toolkit
Together we can raise awareness about the benefits of physical therapy and physical therapists' role as movement experts.
Access the ChoosePT Toolkit