By using this site, you are consenting to our use of cookies. To find out more visit our privacy policy.
Celebrate the profession in October!
Every October we celebrate National Physical Therapy Month to raise awareness with consumers about the many benefits of physical therapy. It's also a great opportunity to appreciate what PTs, PTAs, and students do to transform lives.
This year we will continue to emphasize physical therapists' unique value as movement experts as well as the benefits of regular physical activity.
NPTM is the perfect time for service events. We have a ChoosePT toolkit full of resources to promote the profession, and you also can use ChoosePT.com to educate consumers about the value of physical therapy.
Download APTA's NPTM Press Release Template to create your own press release.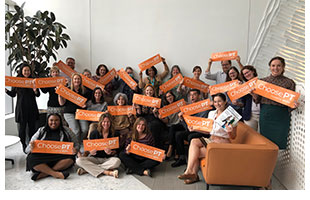 Look in your September issue of APTA Magazine for your ChoosePT sign. Post a photo of yourself on social media holding up the sign and include the hastag #ChoosePT. APTA members who post photos will be entered to win a $100 gift card for the APTA Store. The drawing will be held Nov. 1, 2022.


Brought to you with the support of our Member Benefit Provider, HPSO.
Get Graphics
Download NPTM-specific graphics to raise awareness and celebrate physical therapy.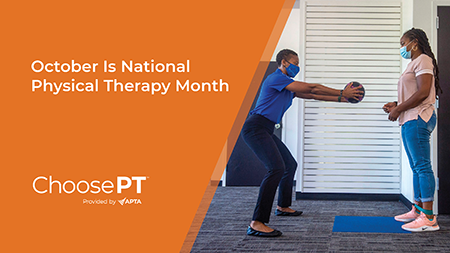 Download printable ads and posters of Thank You Ads that are appearing in the New York Times throughout the month of October.
History
This year is the 30th NPTM. APTA and participating components began to celebrate Physical Therapy Week in the early 1980s. The week was initially observed in conjunction with APTA's annual conference in June and was later moved to October. The week evolved and the first NPTM was celebrated October 1992.
ChoosePT Toolkit
Together we can raise awareness about the benefits of physical therapy and physical therapists' role as movement experts.
Access the ChoosePT Toolkit