The World Confederation for Physical Therapy (WCPT) is making a difference in the lives of people in need of rehabilitation in conflict-affected countries in Africa, thanks to an innovative program supported by the Leahy War Victims Fund, a special USAID program created by US Sen Patrick Leahy (VT) and funded by Congress. Recently, WCPT leaders and APTA staff shared that success story with Leahy's office.
The visit to Capitol Hill allowed WCPT President Emma Stokes and CEO Jonathon Kruger to personally thank representatives for the Leahy War Fund grant that helped the confederation strengthen the physical therapy profession in West Africa, particularly in the strife-ridden countries of Mali, Niger, and Senegal. The program, known as the SUDA Project, has bolstered the physical therapy associations in those countries, improved the quality and standards of physical therapist education programs, and established a model for capacity-building that can be transferred to other low-resource countries.
The Leahy War Victims Fund, an initiative focused on providing assistance to people with disabilities in countries experiencing conflict, provided a $1.2 million grant to the SUDA Project. In addition to thanking representatives of the program for its support, Stokes and Kruger also outlined ideas for expanding or replicating the project in other countries.
"Our meeting provided a wonderful opportunity to give feedback on the SUDA project and to explore future opportunities for the current administration to fund projects that support the development of the global physical therapy profession," said Kruger. "WCPT is very grateful for the support provided by APTA President Sharon Dunn, PT, PhD, as well as APTA CEO Justin Moore, PT, DPT, and his team to make this meeting happen," added Stokes.
"APTA was pleased to be able to facilitate a meeting between WCPT and Senator Leahy's office," said Justin Elliott, APTA vice president of government affairs. "The SUDA Project is a success by any measure, and the Leahy War Victims Fund made that project possible. APTA and WCPT will continue to work together to support this important arm of USAID."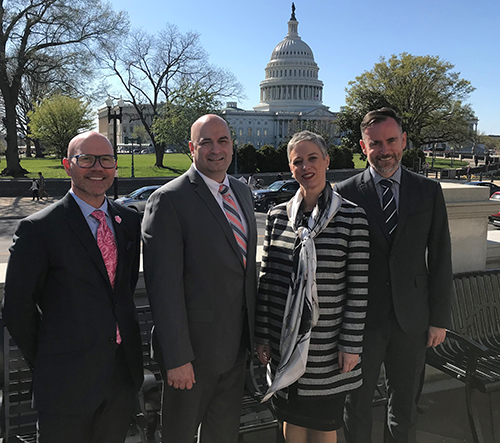 From left: Emilio J. Rouco, MA, APTA director of public and media relations;
Justin Elliott, APTA vice president of government affairs; WCPT President Emma Stokes;
WCPT CEO Jonathon Kruger.