The verdict is in: social media is hazardous to the physical therapy profession. At least some of the time.
That was the outcome of the 12th annual Oxford Debate, during APTA's NEXT Conference and Exposition in Chicago, which in traditional style-over-substance fashion included the pro team wearing hazmat suits while the con team adopted a Blues Brothers theme.
"Our job isn't to say that social media is good or evil but that it's hazardous," Karen Litzy, PT, DPT, said in her opening remarks for the pro team. "People [complain], sell pseudoscience, and attack others. This is where social media becomes hazardous."
Litzy was joined on the pro team by Jimmy McKay, PT, DPT (team captain), and Jarod Hall, PT, DPT. Taking the opposing position were Ben Fung, PT, DPT, MBA (team captain), Jodi Pfeiffer, PTA, and Rich Severin, PT, DPT. (Positions in the Oxford Debate are assigned, and may not reflect the personal opinions of the participants.)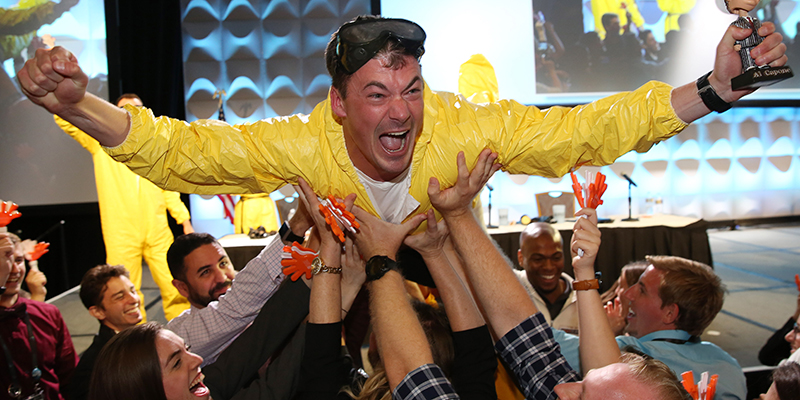 Pfeiffer, dressed as Sister Mary Stigmata, led off for the con team, arguing, "Social media is vital. It's how we communicate with each other. Some people disseminate misinformation on social media. How do we correct it? On social media! We will use it to get rid of the misinformation."
Hall responded, "One study said that, across social media, young professionals spend 116 minutes a day. Social media thrives on the misfortunes of others." Borrowing the concept of schadenfreude—defined as pleasures derived from the misfortunes of others—Hall referred to schandenFacebook. "It's where you relate the great things you said to Mrs Jones and ignore the stupid things you said to 50 others. Sometimes the grass looks greener (on the other side) because it's fake."
Fung insisted that social media does more good than harm, asking, "Which is more hazardous to our profession: that questions are being asked or that we're not part of the conversations? One study found that only 1 in 10 people who need physical therapy will receive physical therapy. If you want to get the average person away from the screen, you have to be part of the conversation. The greater question is that when people ask questions, we're not there [on social media] in their time of need."
Audience participation followed, with a near-even split of 7 for the pro position and 6 for the con. Among the comments:
Anything can be hazardous. If we're not using social media, we're missing an opportunity.
How many people at NEXT have met people on social media?
How many people have sat next to someone at NEXT who isn't paying attention because they're on social media?
Maybe we shouldn't be looking for evidence and research on social media.
The attendees also made their views known by using clappers, running from one side of the room to the other as a debater made a persuasive point, and enthusiastically cheering.
Severin summarized for the con team: "PTs are the movement experts. But people have an outdated image of physical therapy. #ChoosePT changed many views about physical therapy. The PT Day of Service, under the brand of physical therapy, has helped. Social media is key to that movement. Illinois and Texas recently adopted direct access legislation, and social media was vital in that effort. Social media has removed hazards to the profession. It's where we create communities. In addition, it's where patients and the next generation of PTs are going. We need to engage with our communities on social media."
McKay summarized for the pro team: "My job isn't to show that social media is good or bad, just that it's hazardous. Social media leads you to do things you'd never do in person. … Social media is how the anti-vax science goes viral. This is how flat earth society thought goes around the world. Social media filters and distorts information. That's hazardous. But social media is not going away. So we must be safe when using it."
After weighing the arguments and presentations, moderator Charles Ciccone, PT, PhD, FAPTA, found in favor of the pro team 29-23.