Helen Blood, PT, MA, EdD, FAPTA, known for her foresight, leadership, and contributions to the continued development of innovative physical therapist education at the graduate level at Stanford University and in the profession, has died. She was 102.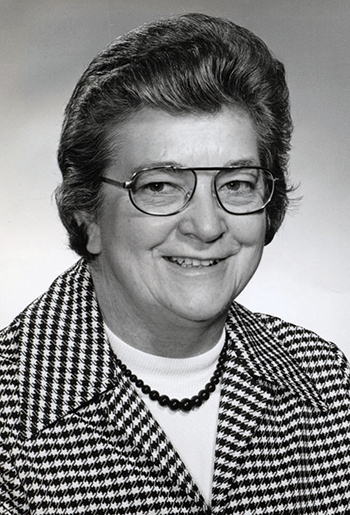 Blood was recognized locally and nationally for her longstanding service to physical therapy education and to APTA. Among her numerous state and national elected offices, she was on the APTA Board of Directors 1965-1967 and was first vice president/speaker of the House 1967-1970. During her tenure as speaker, the House opened membership to the physical therapist assistant. She authored numerous peer-reviewed articles and multiple book reviews for the association's journal.
Blood received The Lucy Blair Service Award in 1975, was the Mary McMillan Lecturer in 1979, and in 1992 was recognized as a Catherine Worthingham Fellow. She was a member of APTA for nearly 75 years.
Blood is remembered for being instrumental in establishing standards, guidelines, and administrative support for bringing physical therapist assistants into the profession. In her leadership role at Stanford and across the profession, she was an early adopter of the critical role of negotiation in building leaders to meet the challenges of the profession.
Blood believed in the humanistic caring aspects of healing and physical therapist practice and in developing physical therapists' commitment to understanding and serving in the community. She was ahead of her time in the seeing how the physical therapy profession could profoundly impact patient care in the community.
Perhaps most remarkable about Blood was her persistence in maintaining active leadership and contributions to the profession, to her colleagues, and to her students in the face of her own serious visual impairments. Her ideals are carried on in the students and graduates she touched and inspired.
Blood received her bachelor's degree in physical therapy at the University of Utah, her physical therapy certificate at Stanford University, and later her EdD from the University of Southern California.
Blood, a former professor of physical therapy and the director of the professional master's degree program at Stanford from 1971 to 1981, died around the time that a new conference room, sponsored by the Stanford physical therapy alumni, was being unveiled at APTA Centennial Center during the association's 100-year anniversary celebrations.