APTA members across the country have been celebrating the association's centennial and the power of physical therapy during 2021, and now they're capping off the year by refocusing on one of the profession's true strengths — its commitment to public service. The efforts are part of APTA's 100 Days of Service initiative that runs through the end of the year, which means there's still time to get involved.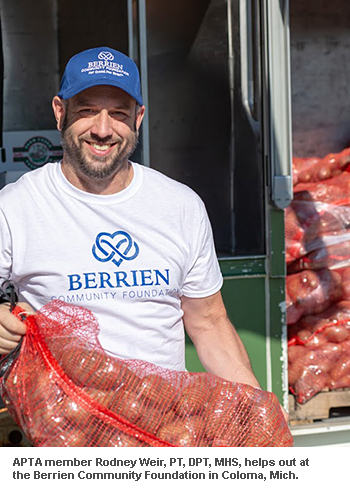 100 Days of Service is all about doing what you can, where you can — days-long projects or a few hours of volunteering, coordinated group events, or simply offering your hands and heart where it's needed. There's no one way to get involved, so you can be creative.
Here are some tips to help you on your way.
1. Get inspired.
APTA members have embraced their service roles in some truly inspiring ways. Check out these stories of members who have an ongoing commitment to helping their communities, from promoting adaptive sports to supporting military veterans.
2. Get set.
Thinking about planning and promoting a service event? Check out the Serve page on the APTA Centennial website to find resources and tips on organizing, getting the word out, and recruiting volunteers.
3. Go!
Once you have an event planned, list it on the APTA Centennial events calendar, and then be sure to share your photos and stories on the centennial website. Remember — any community service is welcome, so let your member community know what you're doing. Who knows? You could inspire someone else to step up.