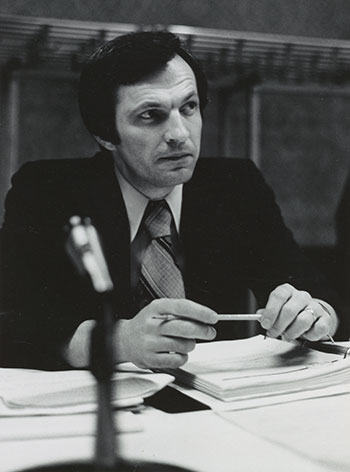 James Armour, PT, former APTA treasurer and president of the association's Pennsylvania chapter, has died. He was 82.
Armour earned his physical therapy degree from the D.T. Watson School of Physical Therapy at the University of Pittsburgh and a master's degree from the University of Pittsburgh School of Public Health. His physical therapy career included work in private practice as well as in the hospital setting, where he served as director of rehabilitation services at Mercy Hospital in Pittsburgh.
A 55-year member of APTA, Armour was elected treasurer of the national association, serving in that role from 1978 to 1981. He received the APTA Lucy Blair Service Award in 1984 and was a co-author of the second edition of APTA's Physical Therapy Administration and Management, published in 1983. He served as president of APTA Pennsylvania from 1974 to 1977, and received the chapter's Carlin-Michels Achievement Award in 1978.
Armour was active in community service in his home state, including being a founding board member and president of the Lighthouse Foundation in Middlesex, a Christian outreach organization that addresses the needs of people in the area who are economically disadvantaged. He was also a member of the community advisory board at St. Barnabas Health System in Gibsonia, and a deacon and elder of the Bakerstown First Presbyterian Church.
Armour is survived by his wife Susanne D. Ault Armor, daughter AmyJo Borrelli, and brother Lee Armour. The family suggests that memorial donations be made to The Lighthouse Foundation or First Presbyterian Church of Bakerstown.