APTA has done it again: The association earned another national award, this time for its innovative APTA Centennial Scholars program that engaged a diverse group of rising leaders in thinking creatively about the future of the profession and the association.
The American Society of Association Executives' Gold Circle award given to APTA recognizes outstanding efforts in association marketing, membership, and communications across 15 different categories. The APTA Centennial Scholars program was selected as a winner in member and volunteer engagement, with judges noting the project's emphasis on diversity, equity, and inclusion as a particularly strong feature.
The APTA Centennial Scholars program was a year-long collaborative effort between APTA national, its components, and other stakeholder groups that supported up-and-coming leaders in pursuing projects aimed at strengthening the profession. The association's components — chapters, academies, and sections — selected and helped to fund their scholars, who worked with mentors on their projects and participated in leadership training.
The program was highlighted in an APTA online article, a feature story in APTA Magazine, and a short video. APTA Magazine also is including profiles of individual scholars throughout 2022.
"APTA is honored to be recognized for this truly innovative initiative, but the reason for the success of the program lies with our members," said APTA CEO Justin Moore, PT, DPT. "APTA components, mentors, and the scholars themselves truly exemplify engagement in our profession and commitment to our community. This recognition is a testament to them."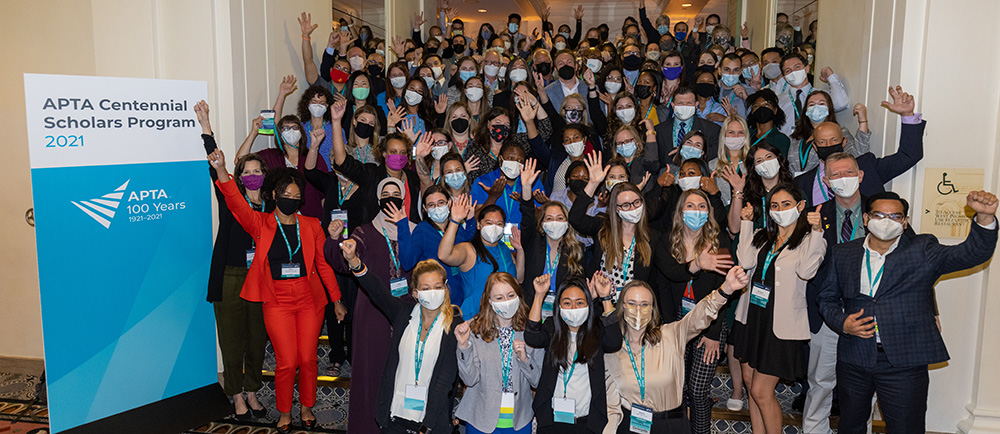 The special centennial-year activity lives on this year as the APTA Association Leadership Scholars Program that includes 25 scholars.
This isn't the first time APTA has been honored by ASAE. The association has received nine ASAE awards over the years, including three previous Gold Circle awards — one each for the ChoosePT opioid crisis public service announcement in 2017, the #APTA100K member recruitment initiative in 2018, and the association's rebranding efforts in 2020.