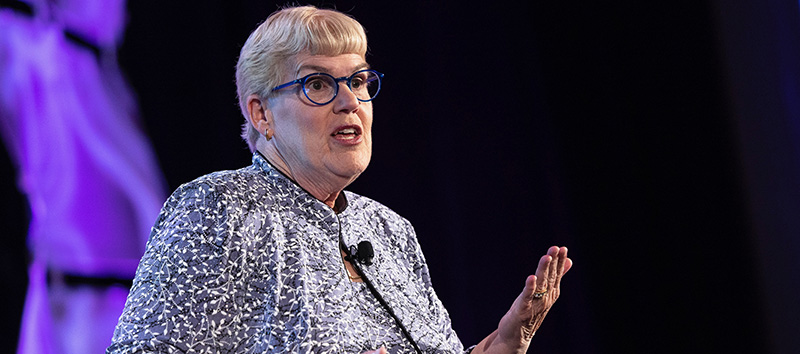 Sue Whitney, PT, DPT, ATC, PhD, FAPTA, didn't waste words in her delivery of the 2022 Maley Lecture during the APTA Leadership Congress. An example? "We need to get out of our little scope, and we need to think bigger," she said in introducing the theme of her Aug. 14 presentation, "Exercise Is Our Medicine."
Whitney, board-certified clinical specialist in neurologic physical therapy and professor in physical therapy, otolaryngology, and clinical and translational science at the University of Pittsburgh, covered several major themes: personalized and precision medicine, the need for big data, use of technology, getting patients to adhere to their programs, and the importance of the right intensity of exercise. A video of the lecture is available for viewing.
Within each topic, she stressed that the physical therapy profession needs to keep up. "The world has moved on," she said more than once, "and we have to figure out how we're going to fit within this new world."
On precision medicine, Whitney said we no longer can just "give everybody that list of exercises after total knee or hip surgery;" it needs to be personalized, targeted therapy. "It's how motivated that patient is. It's how fearful that patient is to do the exercise. It's about what their community of support is. Can they do their exercises at home? Is it the fact that they have depression and anxieties…why they are not getting better?" These factors and more influence how the patient responds to therapy and must be considered in customizing care.
Even with a clinical practice guideline, she said, the "rules" do not apply to all people but are designed to improve care. "Don't take it as a recipe, because it's not going to work."
Whitney also addressed the role of genetics in personalizing evaluation and intervention. PTs can use genetic tests and other health information to assess individual disease risk, understand disease etiology and subtypes, and improve diagnosis and treatment.
"As we understand better the impact of genetics on diseases in individuals, it will be easier to predict the risk of a specific disease," she said, "and, therefore, initiate preventive intervention before the disease presents." Advancements in data science, including artificial intelligence, can answer questions such as "Who is most likely to benefit from intervention?" and "Is the person likely to suffer complications or comorbidities?"
To achieve personalized care, PTs should consider, among other things, health assessment — "not assessing disease but assessing health," Whitney said. This would include a physical therapist wellness plan. "You're saying [insurance] is not going to pay for that," she added in anticipation of the argument, "but down the road I believe they will."
Personalization isn't possible, however, without access to the right information, which is where Whitney indicated that big data comes in. The information available to clinicians isn't nearly granular enough, she said. "We might see that you helped somebody with low back pain, but that's not good enough," she said. "We can't track what exercises you gave your patient. I can't pull that out of your patient's electronic medical record."
Whitney called for developing a mechanism within the EMR across settings to identify exercises, including dose and frequency. For that to work, she reminded the audience, clinicians must be specific in what they document: "Write down what you did!"
Just having more data isn't enough, Whitney continued. She asserted that not only do we need big data, but we need the right data. She noted that more than 98% of genome-wide studies include only Europeans, "so we're not even studying the right people within the total mix of the population here in the United States."
Turning to the use of technology, Whitney said, "If you think you aren't going to do anything with apps and [say you] don't like the computer, you might as well hang up your shingle."
Yes, PTs use their hands, but "use some digital, too," Whitney said. "Both are going to make a difference." Remote services, including telehealth and wearable devices, are a big part of the changes that technology has afforded and are another aspect of customizing care, as it can bring services to patients rather than requiring them to come into the clinic. Examples Whitney offered are wearables that would detect a patient's fall in their home, and an app that has been shown to screen for autism in children using facial recognition software, allowing for identification of — and thus earlier intervention for — early developmental delays.
For PTs and PTAs, this means an evolution of movement dysfunction, Whitney said. She mentioned steps the profession can take to stay current:
Detect movement problems before they compromise function, to potentially prevent future movement complications.
Get involved in health enhancement and prevention earlier in the evolution of movement dysfunction.
Improve our understanding of baseline risk, monitoring movement dysfunction progression and working to prevent future movement dysfunction.
Once the right interventions are determined, the next challenge is the patient's adherence to the plan of care. "How do we get our patients to do what we asked them to do?" Whitney asked. In a systematic review of program adherence in vestibular rehabilitation, there was strong evidence for a written home exercise program, recording their home exercise program and symptoms, and providing support via email and telephone as well as in treatment sessions.
Whitney cited another study using military service members that indicated a lower rate of exercise compliance if the patients were given more than four exercises or if they left the base for more than one day a week. "Think about how many exercises you give your patients," she said.
The last concept Whitney spoke about was intensity. "We do not have our patients work hard enough. I tell my 90-year-olds, you got sore when you were 20; you're going to get sore when you're 90." She pointed to a CPG to improve motor function in people following chronic stroke, which recommended moderate- to high-intensity aerobic activity. "This is for people who are stroke survivors! What are we doing with people who [have not had a stroke]?" she asked.
Finally, she noted that the profession cannot do this alone. "I hear that physical therapy is the answer to everything, and it's not. We need to play with others," she said. "That's part of who we are — we're part of a health team and that's what will maximally help our patients get better."