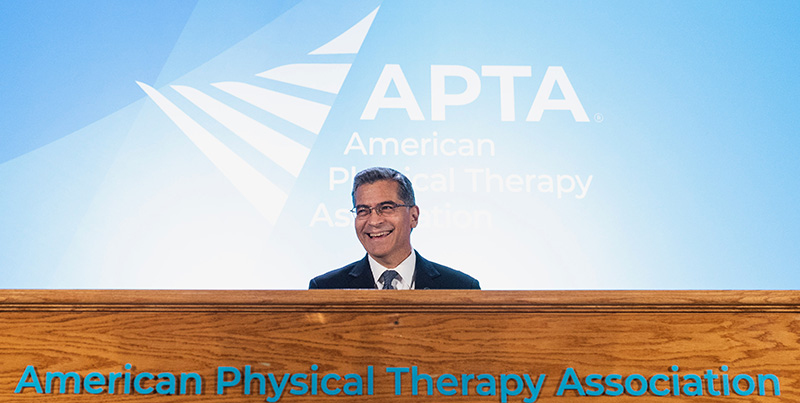 According to U.S. Secretary of Health and Human Services Xavier Becerra, conversations about reforming the Medicare Physician Fee Schedule are worth having, but competing interests won't make those conversations easy. That perspective was one of several he shared with the APTA House of Delegates during a surprise visit to the session on Aug. 15.
The comment came during a brief Q&A session after informal remarks from Becerra that touched on everything from the potential of telehealth in physical therapy to the ways the COVID-19 pandemic has challenged health care to become more proactive.
"It's a bit of a tradeoff," Becerra said in response to a question about the possibility for reforms in the fee schedule and reductions in administrative burden. "Trying to modify Medicare is going to hit someone who likes the way it's done now." No matter which path reform takes, he added, "it's going to be very difficult to bring everybody along." APTA and multiple other organizations are actively engaged in efforts to convince Congress to rethink the entire fee schedule system under Medicare.
A former member of the U.S. House of Representatives and a long-time advocate for physical therapy, Becerra helped lead successful legislative efforts to end caps on payment for therapy under Medicare Part B when he served as a House member. During his remarks he repeatedly pointed to PTs and PTAs as examples of where health care should be headed — toward more patient-centered care that understands why it's important to "really reach people early."
"It's you who keep us to the task to ensure we complete the process of healing," Becerra said.
Becerra told the audience that the COVID-19 pandemic, and the need to respond to long COVID, only underscores the need for more forward-thinking care that takes social determinants of health seriously.
"We're going to tackle long COVID. We have no choice," Becerra said. "We can't have millions of Americans suffering and unable to do what they did before. You are going to be very active in that."
"This is a moment where I believe we can really speak differently about health — certainly about our public health care system," Becerra told the audience. He characterized the current system as a "patchwork with some very poor seams through which fall too many Americans."
The key to ensuring that needed change takes place is to fight complacency, Becerra said, quoting the Dylan Thomas lines, "Do not go gentle into that good night … Rage, rage against the dying of the light."
During the Q&A, Becerra also appeared to endorse further exploration of the role of PTs and PTAs in telehealth.
In response to a question about creating a more sustainable workforce partly by way of increased use of telehealth, Becerra said that "telehealth is here to stay," but the task now is to ensure that it's being offered equitably and that providers are adequately monitored to make sure high-quality care is being delivered.
"As far as the physical therapy profession and where it goes … let's not skimp on making sure we're making those resources as available as possible," Becerra said. He advised PTs and PTAs to "watch the trends" and be ready to step in to provide needed services. If they do, he said, "Americans will respond."