Katherine "Kay" Shepard, PT, PhD, FAPTA, a physical therapy leader whose influence can be felt in nearly every corner of the profession, has died. She was 83.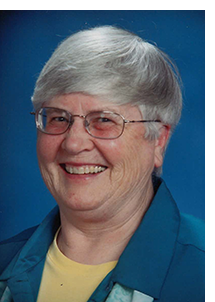 Referred to by many who knew her as "the Margaret Mead of the physical therapy profession," Shepard paired her love of physical therapy with an abiding interest in social psychology, a combination that helped her become a strong advocate for consideration of the patient's social and emotional environment in any treatment plan. Her wide-ranging intellectual curiosity also helped her become a leading voice in supporting the exploration of complementary techniques to improve the effectiveness of physical therapy and patient outcomes.
Born in Skaneateles, New York, Shepard earned her first degree, in psychology, from Hood College in Frederick, Maryland. Before she had even graduated from Hood, she entered the physical therapy program at Ithaca College. After earning her physical therapy degree, she worked briefly at what is now known as Helen Hayes Hospital in Haverstraw, New York, and eventually pursued additional education at Stanford University. There, she earned two master's degrees — one in sociology and one in physical therapy — and went on to receive a PhD in the sociology of education after completing a dissertation that explored the role of small-group interviews for applicants to physical therapy education programs. At the time she received her PhD in the late 1970s, Shepard was among the fewer than 1% of physical therapists in the United States to hold the degree.
During her career as a researcher and educator, Shepard authored or co-authored more than 60 papers, book chapters, and textbooks. She was also instrumental in the development of the first-ever plan to foster professional writing skills in physical therapy.
For many whose personal and professional lives were touched by her, however, Shepard's influence reached far beyond publications. She was known as an inspirational educator who was committed to nurturing the clinical and research capabilities of her students in her roles as assistant professor at Stanford and professor at Temple University. She was also widely considered a pioneer in the integration of the behavioral sciences in the physical therapist education curriculum, and the introduction of concepts of qualitative research methods into the profession. Shepard's legacy in qualitative research lives on in the annual Kay Shepard Qualitative Research Symposium offered annually at the APTA Combined Sections Meeting by the APTA Academy of Research.
A member of APTA since 1962, Shepard's list of association-related honors and awards reflects her far-reaching impact. In addition to being named a Catherine Worthingham Fellow in 1989, Shepard delivered the 38th Mary McMillan Lecture in 2007 and the inaugural Polly Cerasoli Lecture in 1998. She received the Lucy Blair Service Award (1993), the Dorothy Baethke-Eleanor J. Carlin Award for Excellence in Academic Teaching (1988), the Dorothy Briggs Memorial Scientific Inquiry Award (1980), and the Jules M. Rothstein Golden Pen Award for Scientific Writing (1989). Her volunteer roles at APTA included service as associate editor for PTJ: Physical Therapy & Rehabilitation Journal and participation on the APTA Education Committee, the Task Force on Entry-Level Education, the APTA Awards Committee, the Advisory Panel on Research, and the Task Force on Research Planning. Shepard also served as a member of the APTA House of Delegates 1990-91 and was a respected leader at the Commission on Accreditation in Physical Therapy Education, serving as a site team leader and as a consultant for candidacy programs.
Even after years of recognition, Shepard's commitment to service to others remained her personal source of pride, a perspective she shared in an oral history conducted in 2000.
"I think the thing I'm most proud of is the number of students' lives I have been truly privileged to touch," Shepard said. "In West Point there's a tradition of a Long Gray Line, and I feel like I'm part of this long blue and gold line that goes on forever, and that if I've done anything, it's to leave the people behind me coming along that have grown and grown in ways that have felt good and strong and powerful, standing on their feet, ready to contribute to the world and feeling good about themselves."
Shepard is survived by her partner Rose Lopopolo, PT, PhD. At this time, plans for a celebration of Shepard's life, to be held somewhere along the beaches of her much-loved Sanibel Island in Florida, are being developed. Those wishing to celebrate Shepard's life are encouraged to make a donation to charity in lieu of flowers. Shepard was a supporter of World Central Kitchen which accepts online donations.
.