Listening Time — 16:17
Listen on Apple Listen on Castbox Listen on Spotify
On this episode, APTA staff experts discuss findings from two key APTA reports, as well as share updates on a variety of useful resources for members.
The following were discussed in this episode:
Our Speakers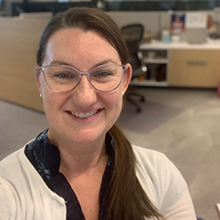 Sarah Amesbury, PT, DPT, is an APTA practice specialist.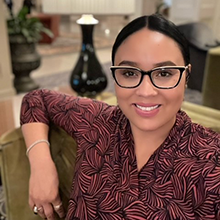 Candace Lambert is an APTA practice associate.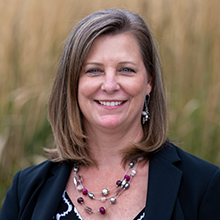 Tara Jo Manal, PT, DPT, FAPTA, is APTA vice president of scientific affairs.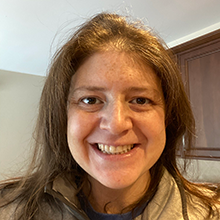 Stacey Schwartz, PT, DPT, is an APTA practice specialist.
View Transcript
The following transcript was created using artificial intelligence and may contain typos, omissions, or other errors.
Narrator: This podcast is brought to you by HPSO, APTA's insurance partner who powers the APTA Insurance Program, providing members exclusive discounts and benefits designed for physical therapists and physical therapist assistants. To learn more, visit APTA.org/NPTM.
Candace: Hi everyone. It's Candice Lambert. APTA's practice associate and we're back with helpful insights for physical therapists, physical therapists assistants, and students. Today I'm joined by two of APTA's practice specialists, Stacy Schwartz and Sarah Amesbury. We are also happy to be joined by APTA's, Vice President of Scientific Affairs, Tara Jo Manal. Hi, ladies and a very special welcome to our guest, Tara Jo.
Sarah: Hi there.
Tara Jo: Hi there happy to be here.
Candace: We're going to be spending most of this episode chatting about two recently published APTA Workforce reports that help us understand what the physical therapy landscape looked like right now. The reports offer insights into employment potential and comparisons among regions and specialties. But first, we've got some quick updates on key resources here to provide us with our first update is Stacey. Stacey, can you give us a few details on the new course in the APTA Learning Center about knowledge translation?
Stacey: Sure, Candace. We all know how important it is to use evidence, but then you wonder, am I doing it right or using the right amount? It can be a struggle to keep up with new literature related to clinical practice. We all want to be sure we're providing the most up to date, evidence based care, even with our time constraints. Well, we're excited to let you know there's a new course in the Learning Center called Knowledge translation, a clinical user guide. In this course, clinicians and researchers who have a lot of experience in the field offer practical tips, resources, and explanations on how to make sure you're translating research into practice. Check it out. Our colleague and fellow practice specialist Jeanine Kolman helped work on the course. Remember, you can find the APTA Learning Center at learningcenter.apta.org and we'll include include a link to the course in the episode notes.
Candace: Thanks, Stacey. Well, let's jump right on over to Sarah who has an update for our listeners. Sarah, what updates are you able to share on a resource that can help our clinicians in practice?
Sarah: Thanks, Candace. I just wanna remind all of our listeners that APTA has entered into relationship with ORCA, which stands for the organization for the review of health and care apps to create a digital health app formulary. This is a resource for APTA members and through this resource you can find high quality digital health tools for both your practice and for your patients. So the formulary has been up and running for the past eight months and we've got over 25 apps in there now ranging from digital physical therapy services with remote therapeutic monitoring capabilities. That was a mouthful for me to an app for concussion management to an app for gait and balance assessment. The formulary is changing all the time and I think it's a great resource for digitally enabled clinicians. A second resource coming out early 2024 will be a special issue of PTJ, the physical therapy and rehabilitation journal titled Advances in Rehabilitation Technology. This issue will include articles on usability of a smartphone app for falls reporting, wearable technology after lumbar spine surgery, and video based gait analysis and people after stroke.
Candace: And for APTA members listening, we also want to tell them about a fun way to get involved in their communities.
Sarah: That's right. Candace, the PT moves me. Ambassador program is a grassroots student recruitment program that has more than 500 ambassadors across the country who help raise awareness of the profession, recruit the next generation of PT and PTA's, and increase the diversity of the applicant pool and ultimately of our profession. Ambassadors help achieve these goals by attending career fairs, engaging elementary, middle and high school students, creating pathway programs for college students, partnering with organizations, and much more. Currently this program consists of PT moves Me education ambassadors who are faculty and students associated with DPT and PTA education programs. Chapter ambassadors who are members of APTA chapters and most recently, clinic ambassadors who are PT and PTA working in any clinical setting. You can sign up now to become a PT moves me clinic ambassador by emailing studentrecruitment@apta.org. I'll say that again, studentrecruitment@apta.org APTA makes it easy to be an ambassador by providing you with access to resources like PowerPoints, Flyers, handouts, activities, discounts and more that will help you with your student recruitment, your community outreach, and your DEI efforts. Not only will you help shape the future of the physical therapy profession and make an impact on the lives of prospective students and patients, but you'll also have another opportunity to opportunity to connect with your local community, which would grow awareness of your clinic and services to attract patients.
Candace: Thanks, Sarah. It's always a pleasure to keep our local community in the know with APTA's opportunities. Now let's shift from thinking about the future of the profession to what it looks like now, in case you missed it, APTA recently released 2 reports, a physical therapy profile, wages earned in the profession 2021 through 2022, and a physical therapy profile. Demographics of the profession 2021 to 2022. Tara, let's start with the demographics report. What are some of the highlights?
Tara Jo: Well, these reports are really packed with useful information for our Members. So here's some things that we found in the demographic report physical therapy, it turns out a professionals are part of a growing health care workforce, and we are the 5th largest clinical application occupation in the health care field. That requires state licensure or certification. This excludes general nursing, but around 225,000 physical therapists were tucked right in between advanced practice nursing and psychology.
The distribution of PT and PTA's across the country is actually uneven. New England and Hawaii have the highest concentration of physical therapists for every 100,000 individuals, but Nevada, Alabama, Arizona and New Mexico have the lowest concentrations of physical therapists per 100,000 people. We encourage you to check out the demographics report if you want to see how your state compares with others, and we will also include a link to both of these reports in the notes section for this episode. In general, the racial and ethnic diversity of APTA membership and of the US physical therapy workforce does not match the population that PT and PTA serve. Black and Hispanic or Latino PTs and PTAs are underrepresented, and Asian PTs are overrepresented. However, data shows that the number of students from underrepresented communities accepted into DPT programs has increased by 4% over the past four years. So we're moving in the right direction, but obviously we want to get there faster. So while the profession doesn't reflect the US population, PT and PTA program enrollments and graduation rates indicate that racial and ethnic diversity is increasing.
Candace: Well, I think we all can agree that there is a lot for Members to explore in the wage report. So Tara, given your expertise, what stats stick out to you?
Tara Jo: Well, we found that practice setting can really influence wages. PTS and skilled nursing, for example, are in the highest annual wage and PT's in acute care settings are in the highest hourly wage. Wage Ptas are in the highest annual wages in higher education, but they earn the highest hourly wages in home care. So one of the things that we thought was interesting was looking at where people are working and how they're paid. Nearly 2/3 of Ptas work on an hourly basis rather than receive annual salaries. Clinical focus also influences wages. Clinical electrophysiologic PTs earn the highest hourly wage an average of about $34 more than PT's working in, let's say, lymphedema as an example, which is the lowest paid clinical focus area by hourly basis. Clinical electrophysiology is a bit of an outlier in that only PT board certified in that specialty area are able to practice in the field. So it might make sense that they would earn that higher wage given the reimbursement for the services they provide. Among PTA's those working in geriatrics are in the highest hourly wage, about $6 more than those working in Pediatrics, the lowest paid clinical focus area. Clinical specialization and residency training matter too, board certified clinical specialists earn an estimated $4500 more per year on average across specialty areas compared with their peers who were not board certified. Again, we encourage everyone to check out the charts and graphics in the wage report to see how your practice setting and clinical focus compares to other. Completing a residency also can boost PT wages, especially for those early in their careers within the first five years, PTs S who complete residency training, have higher first time pass rates on the clinical specialization exam, compared with their peers who do not complete a residency with higher first time certification rates, and an earlier start to clinical specialization. Residencies really can allow PTS to start enjoying the increased earnings associated with specialization earlier in their careers. Thus, it'll compound over your lifetime. And finally, experience makes a difference when it comes to wages. PT's earn an average $800.00 more a year and PTACAS earn an average 220 more a year for each year of experience in the field of physical therapy.
Candace: Well, thanks, Tara, for that breakdown. Can you tell us a little bit about how APTA put these reports together?
Tara Jo: We've been conducting recurring surveys of our members since 2004, which gives us data on members wages. our membership data also gives us demographic information, which we compared with data from Bureau of Labor Statistics and the US Census, as well as the Federation of State Boards of Physical Therapy and CAPTE our accrediting body. By comparing our member databases to these sources, one thing we did find interesting was that APTA membership largely reflects the profession as a whole in terms of practice Setting, female to male ratio and age, which only reinforces the value of APTA member surveys when they provide us insights they can be applied to the physical therapy profession overall.
Candace: How can our Members use this report?
Tara Jo: Well, we really want our Members to feel informed and empowered to make the best career decisions. Information on wages by region, setting and clinical focus can be particularly helpful for students in early career PTS and PTAS. It's also helpful to know what salary to expect starting out and later in your career. We've already learned that these reports are making a difference. One member physical therapist emailed us to say that the data in these reports were used to help younger clinicians seek a salary increase at their facility. Another member told us that learning about the added financial benefit seen with ABTA board certified Special clinical specialization was a game changer in their decision to apply to become a certified specialist.
Candace: So just to be clear for our listeners, aside from supporting Members in their career journeys, why did they APTA put together these reports?
Tara Jo: We really want to take a step back also and look at the big picture workforce planning is important to optimize the patient experience and consumer access to physical therapy. These reports give us insight into employment potential, but they also allow us to compare different regions and specialties across the country. We talked about distribution variances among US geographic areas, meaning some populations who need physical therapy have less access than others to services. This data helps our government affairs team paint a picture for policymakers when it comes to legislation that can help address workforce shortages. And it allows them to better advocate for bills like the one that would add PTS to the National Health Services Corps Loan repayment program. These reports also help us to see the demographic makeup of the profession so that we can work to achieve our commitment to increasing diversity, equity and inclusion in both the association and the profession.
Candace: And one last question, are there any other reports we can expect from APTA in the future?
Tara Jo: While APTA did just publish the research agenda for physical therapy in our flagship journal PTJ, physical therapy and rehabilitation journal, and it can also be found on our evidence based resource page at apta.org, we just repeated a vacancy study in the area of outpatient physical therapy in collaboration with APTA private practice, and this will look at hiring challenges and growth in outpatient physical therapy, and that one should be out sometime in early November. The value of PT project also just launched this week and it has its own web page and is a unique economic analysis of the value of physical therapy analyzed for a series of conditions. The landmark report, the economic value of physical therapy in the United States, uses an economic model to calculate the net benefits to patients and the US healthcare system of choosing physical therapy over alternative treatments. This first report highlights 8 conditions. You can learn more and download the full report at value of pt.com. We'll be talking more about the report in other APTA podcasts, so stay tuned.
Candace: Well, we are definitely looking forward to diving into all reports and any other related projects. The APTA has to offer and hope folks at home take advantage. Well, that's about wraps it up for this episode. A quick reminder everyone APTA's website apta.org is where you can find both of these reports and a wealth of practice information. So I hope you'll make it your regular stop if you want to keep up with all the latest happenings, be sure that you're subscribed to APTA weekly, the free member email we send out on Wednesdays that connects you with News resources, journal articles, and much more. And since you're still hanging around, pop over and follow us on Facebook, the platform X, formerly Twitter, and Instagram. So you don't miss a thing. Once again, I'm Candace Lambert and thanks for listening.