At APTA's Combined Sections Meeting (CSM) in San Antonio in February, Jake Morrow, PT, MPT, briefed a packed ballroom of physical therapists (PTs), physical therapist assistants (PTAs), and students on the physical demands that firefighters face. It's a subject with which he's personally familiar.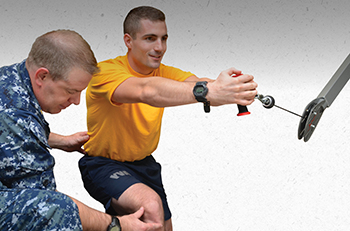 CDR Leslie Hair, PT, DSc, assists a sailor with
dynamic core exercise. (US Navy photo by Naval
Hospital Jacksonville/Released)
Although Morrow, for many years a PT in the US Army, remains an active clinician as an Army reservist, his day job—his night job, too, during 48-hour shifts—is fighting fires and accompanying emergency personnel on calls as a member of the Beverly Hills Fire Department in Southern California.
Morrow, a board-certified specialist in both orthopaedic and clinical electrophysiologic physical therapy, needn't cite patient accounts or consult the literature to knowledgeably describe the conditions that cause firefighters to need physical therapy, or the ways PTs can safeguard them against potential injury and help safely return them to duty.