In August 2017, Jessica Jane West, PT, DPT, fervently tracked Hurricane Harvey's progress. If it made landfall, there would be people who'd need help.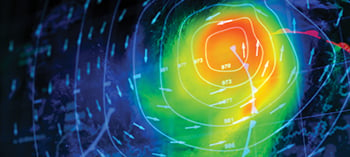 "The hurricane hit South Texas, and that area was destroyed from the winds. Then the rainstorm came and stayed over Houston," says West, a Houstonian who works at MD Anderson Cancer Center. "We knew it was going to come through. But we didn't know it was just going to stay there for 5 days. One part of town got 50 inches of rain in that time."
West rode her bicycle through the flooded streets to the George R. Brown Convention Center in Houston's downtown area. The 2-million-square-foot facility had been used as a shelter during past hurricanes Katrina and Rita. The hurricane made landfall on Saturday. By Tuesday's end, the convention center was maxed out with more than 10,000 people—double the expected number of evacuees.