Pride Month may have ended, but queer patients need your support year-round.
Each June we commemorate the anniversary of the 1969 Stonewall Riots — now known as Pride Month. What started with brick throwing at the Stonewall Inn in New York has become a time for queer people to celebrate their identities, and for allies to show their support.
We, as physical therapists, are not independent of the disparities faced by LGBTQ individuals. According to the Lighthouse LGBTQ+ Affirming Care blog, not only have 56% of LGBTQ patients experienced some form of discrimination while seeking medical treatment, but more than 50% of transgender people also report significant lack of provider knowledge related to their identity. Thus, these patients spend more time explaining their LGBTQ-specific medical needs to their health care providers, and less time getting the treatment they need. LGBTQ people of color are affected to an even greater degree, with a likelihood of avoiding a doctor's office twice that of their white counterparts.
Although Pride Month is over, it's essential to remember that the importance of allyship doesn't only exist during the month of June. As physical therapists, physical therapist assistants, and students, you can help LGBTQ patients feel safe and supported year-round by implementing these five simple accommodations.
1. Use Their Chosen Name and Pronouns
Coming out is often portrayed as a single act. In reality, however, it is a constant, lifelong process.
Many transgender people, for instance, come out every day when they ask someone to use their correct pronouns. And yes, it is as exhausting as it sounds.
As a health care provider, you can limit this burden by asking a patient what pronouns they use. It is also important that you assume the responsibility of correcting other staff members who may address the patient incorrectly, even when the patient is not around.
There is little that we can do to dispel the queer community's hesitation when it comes to seeking care, but we can respect them when they do.
One of the most affirming things that you can do for someone in the LGBTQ community is to use the correct pronouns. Notice that I didn't say preferred pronouns. Liking chocolate ice cream, as opposed to vanilla, is a preference; it isn't someone's identity. Once a person has told you their pronouns, you should use them..
Here are some respectful ways to ask someone about their pronouns:

"May I ask what pronouns you use?"
"When I refer to you, what pronouns should I use?"
"Are you comfortable sharing your pronouns?"
Like any change, altering the language you use may be challenging, and it may take time. But that is no excuse not to try. And when mistakes happen — and they will — you simply apologize, correct yourself, and work to do better.
2. Use Inclusive Language
Although important, pronouns aren't the only language of which we need to be conscious. Popular Twitter personality Derek Rook said it best when he tweeted, "Gender-neutral and otherwise inclusive language isn't about not 'offending people, because everyone is so easily offended these days.' It's about recognizing that our world is much more complex than we've been treating it, and including those who have been excluded."
I once took my girlfriend to a doctor's appointment, and the nurse commented how sweet it was that her "little brother" had accompanied her. This made us feel awkward, as of course, I am neither her sibling nor a boy. But it was also uncomfortable for the nurse, who quickly began stammering in an effort to recover.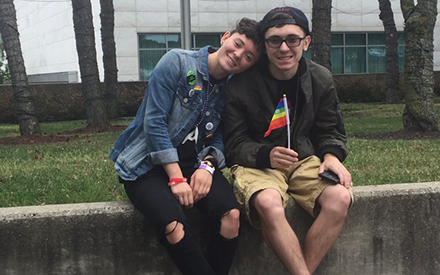 When discussing a person's romantic or sexual relationships in both medical and conversational contexts, avoid making assumptions. You never know the gender of a person's partner or whether they experience romantic attraction at all. Instead, provide an opportunity for the patient to reveal information on their own terms by asking questions such as, "Who came with you today?" or "Do you have a partner?"
3. Employ Gender-Inclusive Medical Forms
Many transgender patients will avoid bringing up transition-related health topics if not specifically asked, even if they are experiencing problems or have concerns. Using forms that address these issues directly ensures that you're aware of your patients' needs. Asking open-ended questions also can be useful in treating cisgender patients who may otherwise refrain from bringing up concerns that they view as deeply personal or uncomfortable.
I remember the first time I encountered an inclusive medical form. I felt relieved for the opportunity to indicate my sex, gender, and sexuality. Not only did this take the weight of initiating the conversation off my shoulders, it also let me know that my physician was knowledgeable about and accepting of LGBTQ identities.
It is equally important to review these forms before meeting with a patient. Many times I have indicated some information on a form, only to find my health care provider had failed to review it. During one physical, for instance, my doctor plunked her hands down onto my chest to conduct a breast cancer examination and appeared quite surprised not to find anything to examine. I then had to inform her (again) that I didn't require an examination, as I am nonbinary and had recently undergone top surgery.
4. Get Consent
Though consent is crucial in treating any patient, additional layers compound that importance when the patient in question is transgender — especially in regard to any treatment involving the chest or other private areas. Requesting consent can be as simple as explaining the reason for a particular action and then confirming the patient's comfort with what you have described. If the answer is no, it is your job, as the physical therapist, to accommodate their boundaries.
5. Continue Educating Yourself on LGBTQ Issues
This article is not an exhaustive list of things that we can do to provide optimal care to patients who are LGBTQ. The most effective step that you can take toward that goal is to make them feel heard and included. This can be done only through a greater understanding of what these patients are actually going through. Even an individual who is relatively well-versed in LGBTQ issues can afford to learn more. Continue to educate yourself by reading books authored by queer people, attending diversity workshops, and volunteering in spaces dedicated to serving the LGBTQ community.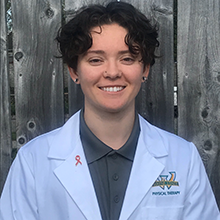 Haley Boccomino, SPT, (they/them) is the first openly transgender person accepted into Wayne State University's physical therapy program. Haley is a member of various campus diversity organizations. They are also working with other industry professionals to educate current health care workers on providing optimal care for patients who are LGBTQ. Connect with Haley by email.