The message that physical activity truly can change lives — and that PTs and PTAs are uniquely qualified to help people get moving — just got a big boost thanks to a TV and radio satellite media tour featuring APTA member Carrie Pagliano, PT, DPT.
APTA took its National Physical Therapy Month "Choose to Move" theme to the airwaves on Oct. 19 by arranging for local TV and radio stations to book live and live-to-tape interviews with Pagliano, a member of the APTA Media Corps and board-certified clinical specialist in orthopaedic physical therapy and women's health physical therapy.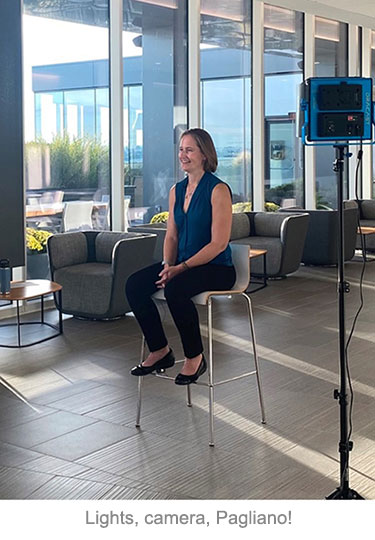 Conversations with the media outlets across the country included national inactivity statistics, what can be done to get more people moving, how to stay active with chronic pain, keeping the whole family active, tips for getting enough activity when working from home, and how a PT can help. Speaking from the APTA Centennial Center headquarters in Alexandria, Virginia, Pagliano urged viewers and listeners to visit ChoosePT.com, APTA's consumer-facing website. That call to action was often repeated by the outlets themselves.
The interviews, 25 in all, aired or will air in market areas including Nashville, Philadelphia, Tampa, Seattle, and Dallas. Here's an example from WTMJ-TV's "Morning Blend" show, from Milwaukee.
APTA's satellite media tour is just one of the ways the association recognized National Physical Therapy Month, sponsored in part by HPSO. Other highlights include three full-color, full-page ads featured in print and digital editions of the New York Times, the dissemination of an APTA-created advertorial on physical therapy's role in treating long COVID, and a suite of eye-catching social media graphics for members to download and share.
(Heads up: APTA's ChoosePT.com website, which was featured prominently in the interviews, is experiencing record numbers of visitors. Don't miss out on the opportunity to increase potential patient access to your practice through our Find a PT directory, APTA's customizable, searchable listing of members, their practice locations, and areas of specialty.)