Donate to the Minority Scholarship Fund
Thanks to the generosity of many APTA members and supporters, the Minority Scholarship Fund has grown to more than $600,000. APTA has provided more than $1,000,000 in awards thus far. Donations to the fund can be made in many ways, anytime, throughout the year.
You can also download and and mail the Minority Scholarship Fund Contribution Form. Make your check payable to the Physical Therapy Fund.
Making a Difference
APTA has provided more than $1 million in awards through the Minority Scholarship Fund. Your contributions are tax deductible as the Fund is contained within the 501(c)(3) Physical Therapy Fund, which is supported by APTA.
Read this article or watch this video to learn about the impact of the Minority Scholarship Award.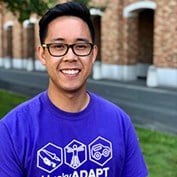 Brandon Nguyen, PT, DPT
"Being a recipient of the 2019 Minority Scholarship Award is an incredible honor, a recognition of my efforts in minority affairs, and a testament to all of my mentors who have invested their time."