By using this site, you are consenting to our use of cookies. To find out more visit our privacy policy.
Donate to the Minority Scholarship Fund
Making a Difference
APTA has provided more than $1 million in awards through the Minority Scholarship Fund. Your contributions are tax deductible as the Fund is contained within the 501(c)(3) Physical Therapy Fund, which is supported by APTA.
Read this article or watch this video to learn about the impact of the Minority Scholarship Award.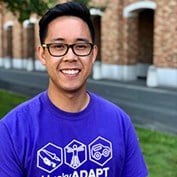 Brandon Nguyen, PT, DPT
"Being a recipient of the 2019 Minority Scholarship Award is an incredible honor, a recognition of my efforts in minority affairs, and a testament to all of my mentors who have invested their time."