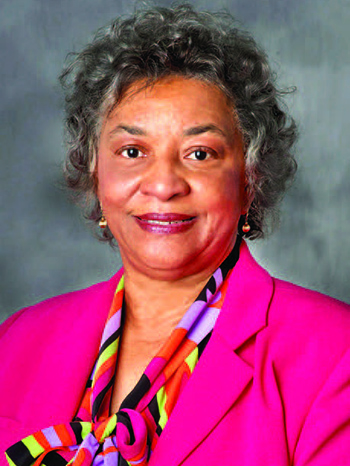 Lynda Woodruff, PT, PhD, an educator and trailblazer in the physical therapy profession, died at her home on March 20. The APTA lifetime member was 70.
Woodruff was a visiting professor at Alabama State University (ASU) and began the transitional doctor of physical therapy program there in 2008. She continued as a consultant until her death. In 2012 ASU established the Baines-Woodruff Endowed Lectureship on Health Disparities to honor Woodruff and Ruth E. Baines, PT, PhD, former assistant chancellor of health sciences for the State University of New York Central Administration.
Earlier, Woodruff was the founding director and professor in the department of physical therapy at North Georgia College, having retired in 2005. The department was the state university system's first postbaccalaureate physical therapist education program. In 1971 she received her master's degree in physical therapy at Case Western Reserve University, and in 1974 she was the first African American to join the faculty in the Division of Physical Therapy at the School of Medicine at the University of North Carolina at Chapel Hill. In 1978 she joined the faculty in Georgia State University's Department of Physical Therapy, and in 1984 Georgia State awarded her a PhD.
At the age of 13, Woodruff was 1 of 2 African American students to desegregate EC Glass High School in Lynchburg, Virginia, resulting in the first court-ordered desegregation since the landmark Brown v Board of Education decision in 1954.
Woodruff would go on in her academic career to direct an award-winning program for minority student recruitment and retention at Georgia State. In 2014 she received the Education Achievement Award from the Physical Therapy Association of Georgia for her exceptional commitment to student learning and growth of the profession, as well as for her work to advance research and evidence-based practice. A member of the APTA Academy of Clinical Electrophysiology and Wound Management, Woodruff made particular strides in that field of practice. She also was a member of the Academy of Physical Therapy Education, a trustee for the Foundation for Physical Therapy, and a Georgia delegate to the APTA House of Delegates, and she served on the House Elections Committee.
Woodruff was instrumental in establishing APTA's original Advisory Council on Minority Affairs and the Office of Minority Affairs, and in establishing the Minority Scholarship Fund and the Minority Scholarship Award for Academic Excellence.
Among Woodruff's other numerous recognitions were APTA's Lucy Blair Service Award, the Kellogg Fellowship for International Leadership, the Distinguished Service Award for the (then) Section on Clinical Electrophysiology, designation as a fellow of the American Academy of Physical Therapy, and a gubernatorial appointment to the Georgia State Board of Physical Therapy on which she served for more than 10 years. In 2006, the Georgia Senate declared February 24 as Dr Lynda D. Woodruff Appreciation Day.
"The profession of physical therapy grieves the loss of Lynda Woodruff, a truly legendary champion for positive change," said APTA President Sharon L. Dunn, PT, PhD. "Dr. Woodruff's spirit was big and her presence was powerful—a fact evidenced not just in her curriculum vita, but through the stories and successes of those she mentored and inspired, her 'Woody Babies.' Our profession has lost a an important voice, a stalwart advocate for our professional conscience for diversity and inclusion, a driver of clinical excellence in electrophysiological diagnostics, and a matriarch for others' pursuit of opportunities within the profession and beyond. We will honor Dr. Woodruff's legacy and her relentless pursuit of 'better' by doing better and being better at all the things for which she dedicated her life and career. Her loss will leave a void in many hearts."
APTA has issued a statement on Woodruff from Dunn. Additionally an oral history of Woodruff, recorded in 2002, is part of APTA's archives that association members can check out. Visit the Oral Histories webpage for instructions on borrowing and returning materials.
Those wishing to make a donation to the APTA Minority Scholarship Fund in honor of Woodruff may make checks payable to "PT Fund," with "Minority Scholarship Fund" noted in the memo line. Checks should be mailed to APTA, 1111 North Fairfax Street, Alexandria, VA, 22314; ATTN: Minority Scholarship Fund.