By using this site, you are consenting to our use of cookies. To find out more visit our privacy policy.
We're excited that you're considering a career in physical therapy.
Making a career choice is a big decision, and you probably have questions.
Getting Started
These pages answer the most common questions about a PTA career.
Becoming a Physical Therapist Assistant
CAPTE Directory of PTA Programs
You Might Also Want to Read
Impact of Student Debt on the Physical Therapy Profession
International Physical Therapy Education
Still Have Questions?
Contact a current PTA student!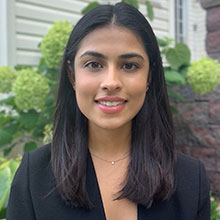 Ashka Sevak is a current student in a physical therapist assistant education program at Essex County College and serves as the Director of SPTA Relations on the APTA Student Board.