For a determined young man, "graduation exercise" takes on new meaning.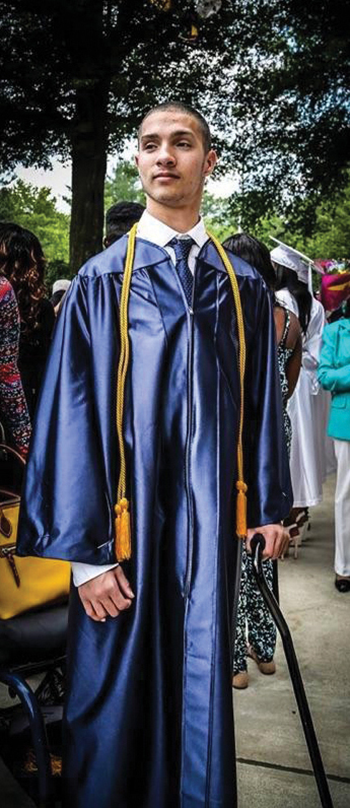 In the summer of 2012 the Haller family was vacationing in Ocean City, Maryland, enjoying the beach like many families do. No one knew that this trip would change their lives forever—and allow me to be a part of the most awe-inspiring stories of dedication I ever could imagine.
On July 27, 16-year-old Parker Haller did what a lot of teenagers do and dove headfirst into a wave. Unfortunately, there was a sandbar directly behind that wave. Parker hit head-first into it, resulting in vertebral fractures and an incomplete spinal cord injury at C4-5.
He immediately felt his entire body go limp and had to be rescued out of the water. He was airlifted to a shock trauma center in Baltimore, where he spent several weeks in the intensive care unit. Within the first week he had surgery to repair his vertebrae and was given a 4% chance of ever walking again. He then had a second surgery that increased his chances of walking to 35%. Parker next spent 2 months at the Shepherd Center in Atlanta, Georgia—a rehabilitation hospital for patients with spinal cord and brain injury—before coming home to the Washington, DC, suburbs to continue outpatient rehab at Inova Mount Vernon Hospital in Alexandria, Virginia.