A patient and his rehab team, wedded to a goal.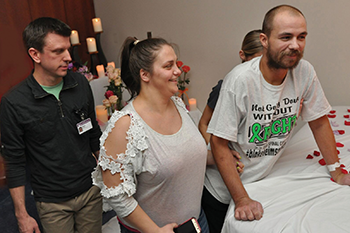 "I want to get down on my knees this week and propose to my girlfriend," Trent announced.
I was caught off-guard that Monday morning, and I wasn't sure the goal was achievable within the timeframe. Still, I didn't think twice about responding, "Sure! We'll figure it out."
It was exactly what I love most about being a physical therapist (PT) in the inpatient acute care setting. We often help patients achieve things that seemed unlikely or impossible to them in the wake of catastrophic injury. I took Trent's statement as a challenge. I'd do everything I could to help make this happen.