All across the nation, consumers have "some form" of direct access to physical therapist services. What does that mean? What work remains?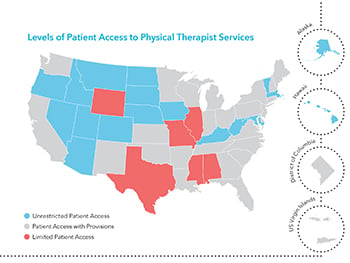 The quantity's there. The quality keeps improving. But there's still plenty of work to be done.
That, in summary, describes the state of patient access to the services of physical therapists (PTs) in fall 2016.
The numbers tell a story, but far from a complete one. There is "some form" of direct access, per APTA, in all 50 states, the District of Columbia, and the US Virgin Islands. (See "Levels of Patient Access to Physical Therapist Services" map on page 34.)