Carolyn Tassini, PT, DPT, is confident in her skills as a physical therapist (PT). Still, she says, she always welcomes a little help, and she really appreciates assistance from her friend Seamus.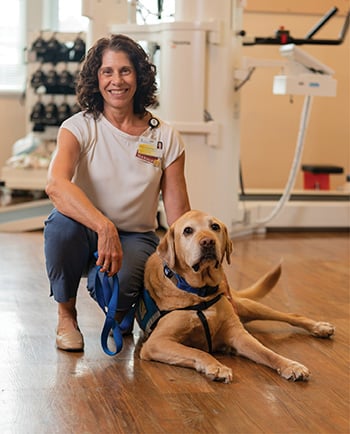 Seamus, she explains, is a highly trained therapy dog who's played a role in her work for the better part of 8 years. The golden retriever and Labrador mix was bred and initially raised, with the help of a volunteer, through Canine Companions for Independence (CCI), a nonprofit organization in Santa Rosa, California.
CCI matches most of its dogs with individuals with disabilities, but some, like Seamus, are trained as "facility dogs" and are placed with professionals in a variety of settings. Early in her career, Tassini worked on the neurology floor at Massachusetts General Hospital and watched as a woman with a severe brain injury emerged from an extended period of nonresponsiveness during a visit from a therapy dog.