Spring is on the horizon, but for many of us there are constant signs of winter.
The same might be said of the pandemic. Slowly but surely, our communities are reopening and reconnecting, but we haven't left COVID-19 behind. Vaccinations and improved care have reduced the risk of extreme illness and death, but the strain on our health care system — including our members — hasn't gone away.
Some have asked when we'll "return to normal," but the effects of the pandemic have been too significant for us to jump back to the way we were. Instead, we'll evolve toward a new normal, which will be temporary until the next new normal takes shape.
This year's APTA Combined Sections Meeting provides an example of this evolution. In early February, more than 11,000 participated in San Antonio, while complying with various requirements for a safe event. In March, APTA CSM On-Demand is making more than a third of the content accessible to those who were unable to travel or uncomfortable with in-person participation registration is open through March 11, and those who attended in person get free access without additional registration).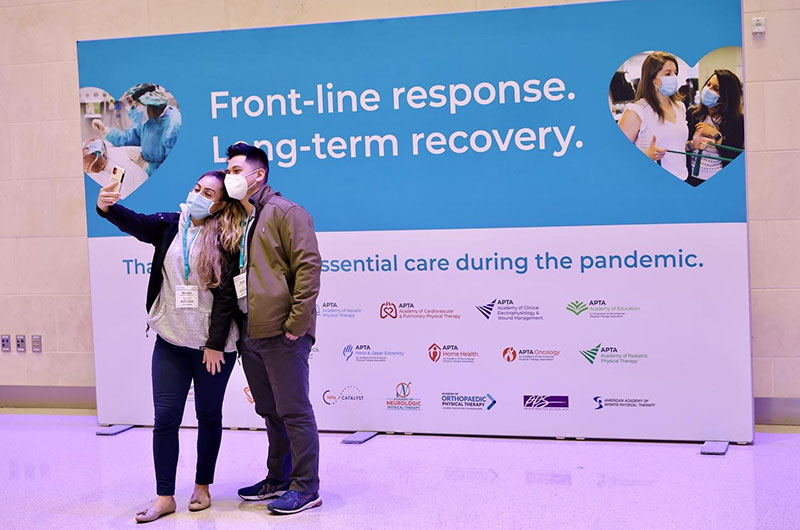 That doesn't describe APTA CSM as it has always been — but the conference continues to provide outstanding educational content and an inspiring feeling of community that many in-person attendees said was particularly meaningful this year. Being together is special, and maybe an increased appreciation of that fact will be part of our pandemic-shaped evolution.
A sign outside the exhibit hall at APTA CSM thanked our members for their outstanding service amid the pandemic, and I'd like to repeat that gratitude here.
Our profession provides essential care. Whatever your setting, whatever your role in our physical therapy community, you are contributing to how we respond to and move through COVID-19. Given the number of delayed procedures, and with the lasting trends of long COVID still being measured, our work has just begun.
This year, APTA begins work on a new four-year strategic plan, which builds on the themes and progress of the previous three-year plan. Achieving meaningful progress on our goals and objectives will require significant breakthroughs across multiple areas. That's why the work is so important.
I am proud to serve our association, and to team with the other committed members of our Board of Directors. Along with the responsibility I feel, I also feel humbled. As I said in a recent Q&A in APTA Magazine, at the end of the day I'm still an APTA member like you. Progress takes all of us.
Thank you for your support of APTA.
Roger Herr, PT, MPA
APTA President