National Physical Therapy Month, celebrating its 30th anniversary this year, is off to a great start, and the APTA community is helping to build on the momentum. It's our time to celebrate — and spread the word.
"Everyone can serve as an ambassador for the profession," said APTA President Roger Herr, PT, MPH. "National Physical Therapy Month is an opportunity to do just that and connect with the public about the transformative power of physical therapy."
The theme of this year's NPTM, supported in part by professional liability insurance provider HPSO, goes by the tagline "Choose to Move." It's a continuation of an APTA campaign that began in 2020, with emphasis on the importance of physical activity. The issue is more important now than ever, as the country continues to make its way out of a pandemic.
"Our physical activity campaign emphasizes the value of staying active and moving," Herr said. "PTs and PTAs are perfectly positioned to share the importance of physical activity in our communities, and why it's so important to 'Choose to Move.'"
Here are highlights from NPTM so far, and some tips on how you can continue the celebration.
NPTM Launches With a Can't-Miss Thank You to the Profession
The month got off to a big start with the debut of our first full-color, full-page ad celebrating physical therapy. Three ads will be published in print and digital editions in The New York Times. In addition to thanking PTs and PTAs for their service, the ads include a call to action for readers to visit ChoosePT.com, the association's popular consumer-focused website and home to the Find a PT directory. The entire collection of ads is available for downloading, printing, and sharing.
The launch of the ads was preceded by a gathering of members, including Herr, outside the set of the Today Show on Sept. 30. Dressed in orange ChoosePT t-shirts and holding ChoosePT signs, they made a big impression.
Social Media Graphics? We Got You Covered
We're making spreading the word about physical therapy easier than ever. Just head to the toolkit page at ChoosePT.com for all things NPTM — including a new collection of eye-catching social media graphics available for free download. Grab a few and get sharing. The resource also includes a virtual background for Zoom or Teams meetings and an email signature.
And While We're Talking Social Media … Have You Looked Inside the September Issue of APTA Magazine?
The September issue of APTA Magazine included a special pull-out ChoosePT poster, perfect for the selfies you're going to be taking and sharing. And not that you need it, but we're offering an incentive: Take a picture with the poster and share it on your social media channels using #ChoosePT and you'll be entered to win a $100 gift card for the APTA Store.
Let the Local Press Know What's Up
The APTA NPTM webpage includes a link to a press release template that you can customize and share with local media to help your community know about NPTM and any activities you have planned.
A New Article Highlights Physical Therapy's Role in Treating Long COVID
Keep your eye out: an APTA-created advertorial (known in the biz as a "mat release") is being disseminated to online and print publications across the country for use in their news feeds. The focus of the short, feature-style article: how PTs and PTAs can help address the symptoms of long COVID.
Round Out the Month With a Deep Dive Into Care for Individuals With Long COVID
There simply couldn't be a better time than NPTM for one of the highlights of this year's APTA Lecture Series: a two-part exploration of a multidisciplinary approach to long COVID rehabilitation. The live online course, scheduled for Oct. 28 and 29, will include PTs, an occupational therapist, and a speech-language pathologist. It's a great way to wrap up a great month.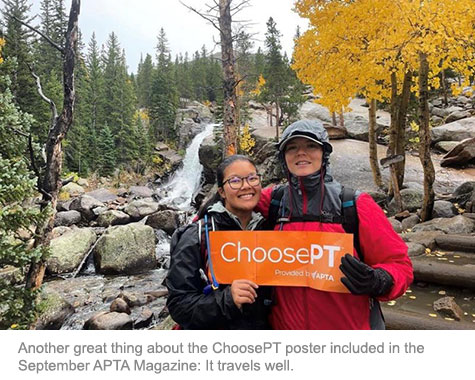 Let APTA Member Voices Inspire You
National Physical Therapy Month isn't just about promoting physical therapy and physical activity to the public — it's also a time for PTs, PTAs, and students to reflect on their passion for service and care. Read how member Anne Kloos, PT, PhD, found happiness through service, and check out this collection of staff picks from Defining Moments, APTA Magazine's recurring column focusing on members' stories of the times that shaped their careers.
Coming Oct. 8: Global Physical Therapy Day of Service
Community service has always been a hallmark of the profession. Join with PTs and PTAs around the world and donate some time on Oct. 8 as part of the Global Physical Therapy Day of Service. Check out this APTA webpage to get started.