Give our profession a month, we'll give you a better-informed public.
The dust is still settling after the close of National Physical Therapy Month in October, but it's already clear that this year's NPTM was among the most high-profile celebrations in its 30-year history.
And we have the numbers to back it up. For example: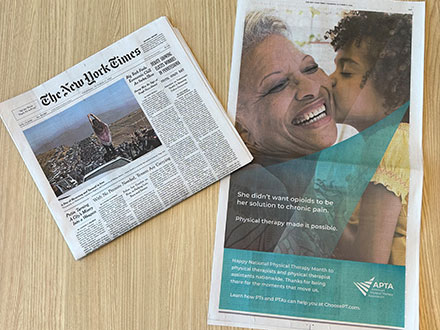 1.9 million: Estimated viewership, based on circulation numbers of the three full-page ads thanking PTs and PTAs that were published in the New York Times.
1.2 million: Impressions achieved through targeted online advertising of the Times ad.


69.1 million: Estimated audience reached through broadcasts, news releases, and online content generated from APTA's satellite media tour highlighting the importance of physical activity and the role of physical therapy in optimizing movement.
160 million: Potential audience for the APTA advertorial on physical therapy's role in treating long COVID, which received more than 2,000 online and print publication placements.
Best of all, the excitement wasn't just coming from APTA headquarters: members from across the country made the most out of NPTM by spreading the word. A few examples:
Members ran with APTA's suggestion to leverage their local media outlets to call attention to NPTM and the profession. Among the many local placements: Member Meghan Fuhrman, PT, DPT, was featured as a guest columnist on Owatonna.com, an online news source in Owatonna Minnesota; the physical therapy staff from St. Joseph's Hospital in Buckhannon, West Virginia, was the focus of a feature in the Buckhannon Record-Delta newspaper; and Pennsylvania College of Technology PTA students made the pages of The Express (of nearby Lock Haven) in an article about their community service activities.
The #ChoosePT poster that was included in the September issue of APTA Magazine also inspired members to feature the message in creative ways as part of an APTA-sponsored contest. The winner: Maria Aguila, PT, DPT, Twitter handle @MariaDoctorofPT, who shared a short video of a patient holding the #ChoosePT sign while standing up. The scrolling text under the image reads "A few weeks ago I cannot even get up from this chair without help. I #ChoosePT because it helps me be independent and take care of myself for as long as possible."
But wait, there's more. Check out this Wakelet collection for a truly inspiring overview of how members, patients, supporters, and others shared their love of the physical therapy profession on social media.
In addition, staff at APTA headquarters got in the NPTM spirit of community service by hosting and participating in a blood drive, engaging in a neighborhood trash pick-up, and volunteering to assist in a Miracle League of Alexandria baseball game, an event that gives kids with disabilities an opportunity to play ball.
Thanks to the APTA community and everyone across the country who made this year's National Physical Therapy Month such a success.