APTA CSM Housing and Travel
Housing
APTA is committed to providing a high-quality housing experience for its attendees through contracted room blocks. MCI is APTA's exclusive and official housing bureau for the APTA Combined Sections Meeting.
Contact MCI at aptacsm@mcievents.com for support. MCI also offers support by phone at 972-349-5841, but APTA recommends using the email address for best service as MCI's wait times can be long. (If outside the USA/Canada: 1-800-809-9565.) The APTA Housing Center is open Monday-Friday, 9 a.m. to 6 p.m. ET.
Travel
Air Travel: San Diego International Airport (SAN) is 3 miles from the convention center, 2.5 miles away from downtown, 13 miles from La Jolla, and 20 miles to the Mexican border at Tijuana.
Ground Transportation: Ground transportation, including off-airport shuttles and taxis, can be booked at the transportation plazas in front of Terminals 1 and 2. Taxis depart from designated taxi zones on the arrivals level. Customer service representatives under the blue umbrellas provide additional help.
Route 992 MTS bus stops are in front of each terminal. This route operates between 5 a.m. to 11:30 p.m., every 15 minutes on weekdays and every 30 minutes on weekends and holidays. Riders can use it to get to the Santa Fe Depot downtown to connect with Amtrak and COASTER commuter trains. The website also details how to access the San Diego Trolley light rail network.
Rideshare companies are allowed to deposit and retrieve fares at the airport transportation plaza outside Terminal 1 and in the second lane on the right for Terminal 2.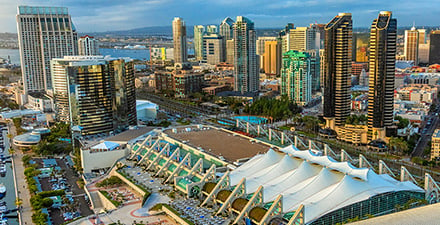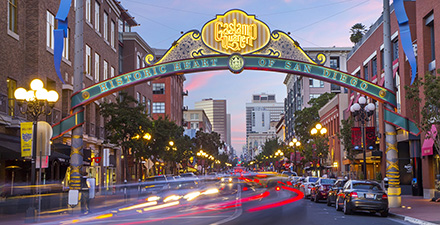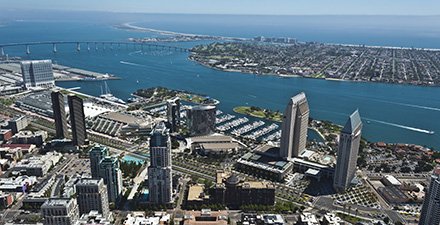 San Diego in February
Average High Temperature: 65 F (18 C)
Average Low Temperature: 52 F (11 C)
Rain: 2.35 inches (6.0 cm)
Rainfall: 7 days
Sunshine: 8 hours
Daylight: 11 hours
Water Temperature: 58.6 F (15 C)
UV Index: 4
What to Pack:
For San Diego in February, choose short to mid-length sleeved tops, full-length bottoms, light to mid-weight outer layers that are rainproof if it's in the forecast. Shoes should first and foremost be comfortable, both for navigating the conference and to enjoy the surrounding neighborhood.
Pack an umbrella or rain jacket with hood for rainy days and a warm jacket if no rain is predicted. A scarf or shawl is also a good addition to the packing list. You won't need a thick winter coat.
If you plan to go across the border into Tijuana, pack your passport.
Things To Do:
Don't miss special offers, discounts, attraction passes, and restaurant recommendations.
Thank You, APTA CSM 2023 Sponsors!
Champion Sponsors
Advocate Sponsors
Patron Sponsors
Support Sponsors