Rates & Registration
CSM 2021 will be held virtually from Feb. 1-28. As a registrant, you'll be able to access all sessions and content through March 2021.
APTA members save at least $150, and members of APTA sections and academies save even more! Scroll down to view the rates.
Join APTA or add section membership prior to registering to benefit from the reduced conference rate. Use the membership dues calculator and explore payment plans to determine costs.
If you have any problems, contact MCI, APTA's registration partner at 800-809-9565 or email aptacsm@mcievents.com. Bulk registration instructions are provided below.
Postconference courses also are available for registration.
Get Swag!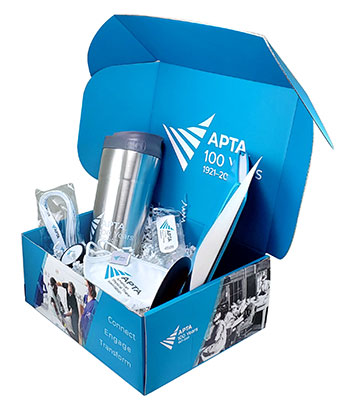 The first 15,000 registrants will receive a free swag box in honor of our centennial that includes a journal, tumbler, lapel pin, mask, and more!
Thank You CSM Sponsors
Signature
Premier
Champion
Advocate
Patron
Support
Rates
Due to the all-virtual format and the circumstances of the health crisis, CSM 2021 has a simplified pricing structure and offers unlimited access to our programming.
$350 for nonmembers.
$200 for APTA members who don't belong to a section.
$150 for APTA members who have at least one section membership.
$100 for International Partners (If you are an internationally-educated PT who lives outside the U.S. and are not eligible for APTA membership, you may be eligible to become an International Partner. Learn more more about APTA International Partners).
Standard registration fees are the same for PTs, PTAs, and students, although some discounts apply (see below). The rates will remain consistent through Feb. 28, 2021 (no early-bird or advance registration deadlines as with an in-person event).
Discounts
Speakers and poster presenters are being contacted directly about discounts.
APTA student members who registered for National Student Conclave 2020 will receive 50% off CSM 2021 registration.
Bulk Registration
To register a group, complete the bulk registration form and contact MCI, APTA's registration partner, at aptacsm@mcievents.com or 800-809-9565. (Please note: APTA CSM 2021 has reduced pricing for all due to the pandemic. There is no additional discount for bulk registration.)
Postconference Courses
Looking for more outstanding content? Explore the APTA CSM postconference courses occurring in March. Registration for APTA CSM isn't required to register for these events.