By using this site, you are consenting to our use of cookies. To find out more visit our privacy policy.
Some of the most exciting advances in physical therapist practice involve emerging digital technologies. Digital health — the integration of medical knowledge with technology to improve care and self-efficacy — has the potential to transform health care delivery with remote monitoring, health care apps, virtual reality, robotics and wearable sensors, augmented intelligence, and machine learning.
PTs and PTAs are increasingly using digital health technologies to expand and modify care delivery. In the right applications, these tools can advance quality of care, provide clinician support, speed access to services, increase patient engagement, and reduce overall spending.
APTA has identified the concept of the digitally enabled physical therapist as a framework for addressing the role of digital health in physical therapy care. Digital technologies can never replace the value or role of the PT or PTA but can enable clinicians to expand their reach and deliver critical data on patient progress and outcomes.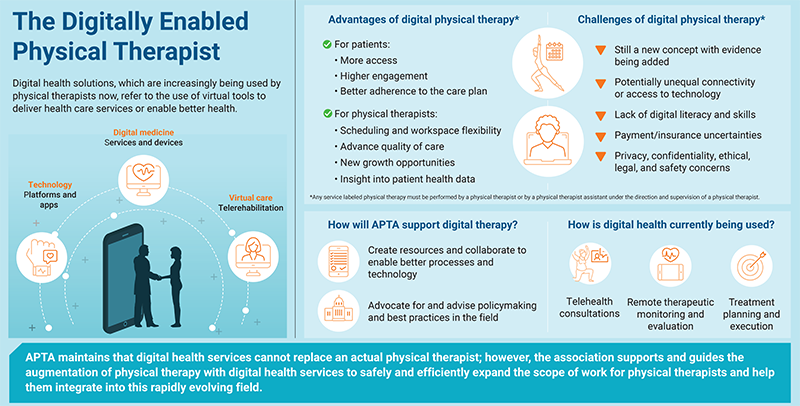 Before you begin practicing telehealth in your state:
Examine your state's physical therapy licensure law and corresponding state licensure board regulations/rules. In many states, the physical therapy practice act is silent on the use of telehealth.
Review federal and state laws, regulations and policies that govern your practice, billing and coding issues, and hardware and software requirements.
Check out APTA's telehealth certificate series to ensure that the physical therapy profession is prepared to provide excellent care via telehealth.
Consideration for telehealth billing and coding can be found here, as well as resources on telehealth advocacy.
APTA and the Organization for the Review of Care and Health Apps, or ORCHA, have developed a collection of digital health apps and other products for the physical therapy profession that ORCHA has independently and objectively assessed for safety and effectiveness. The APTA Digital Health App Formulary, powered by ORCHA, is exclusive to association members and gives you a single source for choosing among quality-assured digital health tools to use and recommend to your patients and clients. Learn more.
Additional Digital Health in Practice Content